Xavier College Newsletter - Term 1 Week 10
Principal's Welcome
As this is the last newsletter before the end of Term 1, I would like to thank all members of our community for the part they have played in ensuring a successful Term.
Important Enrolment information
Enquires about enrolments can be made to our College Registrar, Victoria Hall on 85230088 or email the registrar@xavier.catholic.edu.au.
Please also visit our website for information about the College.
Xavier College Gawler Belt, Years 7-12
A reminder that the 2023 Year 7 enrolments close on 31 May 2021. Please also note this applies to all siblings and students from Catholic partnership schools.
Xavier College Two Wells, currently Reception to Year 6
Given the community demand, Year 7 and 8 will be introduced from the start of 2022. Places are filling fast across Reception – Year 8.
Published on: 23 Mar 2021
Official opening of the Xavier College Two Wells campus
On Wednesday 3rd of March, we officially opened the Two Campus with the Blessing by His Grace, Archbishop Patrick O'Regan and Opening by Mr Brian Martin AO of the Lynn Martin Building.
I would like to thank: Archbishop Patrick O'Regan, Fr Germano Baiguini SDB, Damien Sladen SDB , Jose Pazheparambil SDB and Brian Ahern SDB (representing Fr William Matthews SDB – Salesian Provincial), Professor Denis Ralph, Chairperson of SACCS, Dr Neil McGoran, Director of Catholic Education in South Australia, Mr Brian Martin AO, members of the Martin Family and other distinguished guests for attending the ceremony.
I would also like to thank our project partners: Catholic Education South Australia – especially the Planning and Development team and the steering committee, Mossop Construction and Interiors, Edge Architects and The Hickinbotham Group.
I would also like to acknowledge the following:
Michael Hickinbotham and Professor Dennis Ralph's connection and vision for the project.
Dr Neil McGoran for his leadership.
Members of the Xavier College Leadership Team.
Key Xavier staff: Anthony Sutton, Deryck Pinchbeck, Janine Atkinson, Lynette Hutton and Carolyn Pape.
Staff at both Gawler Belt and Two Wells for their support.
Karl Barber, previous Xavier Business Manager, now at Cabra Domican College, for his work in the establishment phase of the project.
Janet Comber, Campus Head Two Wells for her extraordinary work in establishing the Campus and its culture.
Mr Brian Martin, Mrs Jo-Anne Martin and members of Martin family for their support.
The below memorial tribute, written by Mr Gareth Watson, was read on the day and has been incorporated into the signage on the new building as reminder of who Lynn Martin was and how important he was to the Xavier College community for future generations to read and understand.
Mr Mark Flaherty
Principal
Published on: 31 Mar 2021
College Board Meeting - AGM
18 May 2021
7:00 PM to 9:00 PM
Published on: 20 Nov 2020
Holy Week
This week across both campuses we acknowledge the solemnity of Holy Week.
At Two Wells, this involved the students gathering every morning to hear the scripture readings related to Palm Sunday, Holy Thursday and Good Friday as part of short prayer services designed to highlight the key message of each of these major days in the Liturgical Year. This has been further explored in work done in Religion classes being led by Miss Blowes and Mrs Mercer.
At Gawler Belt, the College community came together this morning to reflect on the message of Holy Thursday and Good Friday. This morning's prayer service emphasized the example of service given to us by Jesus as well as his Passion and Death on the Cross. As part of this prayer service, Student Leaders had their feet washed by key members of staff, recreating Jesus actions at the Last Supper and all member of the community participated in the procession of the Cross through the College grounds.
Published on: 01 Apr 2021
Prev
Showing images
1 - 8
of 10
Next
Published on: 23 Mar 2021
Two Wells - Junior School
It is hard to believe that we are nearly at the end of our first term together as Xavier College Two Wells. It has been a busy term, but as we have all got to know each other and work as a strong community, I am proud of what we have achieved in such a short space of time. I sincerely thank our staff, students and families for their support and enthusiasm. The future is very bright for us all!
Two very successful Open Nights were held at the Two Wells Campus. We were thrilled to welcome families and community, and showcase our contemporary learning space and amazing staff. We pride ourselves on being a home that welcomes, which was evident from the positive and affirming feedback we received.
Parent / Teacher/ Student interviews were held, and were also very affirming and positive. We believe that clear and consistent communication is of paramount importance, so please do not wait for scheduled interview time to contact us if you need to discuss anything with your class teacher. Thank you to everyone who worked so hard to make these such a resounding success.
As we head into our Easter break, classes have worked to understand Holy Week, and have done a brilliant job working as a team to retell the events leading into Easter. On our return to school after the break, we will culminate with the resurrection, which leaves us with a joyful message of hope and love. I wish you all the best for a wonderful and safe Easter break.
Janet Coomber
Head of Campus Two Wells
Published on: 23 Mar 2021
SACPSSA Swimming Carnival
On Friday 19 March, students from Xavier College Two Wells attended their first sports carnival, travelling to SA Aquatics Centre in Marion to compete in the SACPSSA Section 7 Swimming Carnival. We took a small team of 7 students, all representing Xavier College remarkably well. Their effort, encouragement for others and team spirit was really pleasing. Congratulations to Ella Shipton, Flynn and Blake Williams, Ethan Leighton-Nicholson, Adelynn Morris, Lily Gameau, and Chelsea Baker. A huge thankyou must also go to Mrs. Tammy Haythorpe, who did an amazing job ensuring our swimmers were at their respective events on time throughout the carnival.
Mr. Nicholas Skewes - Year 6 Teacher
Published on: 23 Mar 2021
SACPSSA Student Leadership Seminar
On Friday 26th March, 7 students from Years 5 and 6 attended a leadership seminar offered by SACPSSA and ACHPER, with the aim of developing a student driven leadership program for daily physical activity at Xavier College Two Wells. Students were involved in a number of practical and theory sessions to build upon their leadership skills and develop their understanding of what makes people high quality leaders. Our participants represented Xavier College extremely well, and we look forward to applying our newfound leadership qualities to help our junior primary students get active every day.
Mr. Nicholas Skewes - Year 6 Teacher
Published on: 31 Mar 2021
Sporting Schools
Over the past term, students from Xavier College Two Wells have participated in an Athletics program, where they have been coached for four sessions. Students practiced a variety of Athletics events including Hurdles, Shot-put, Long Jump and more. Callan O'Loan (Year 4) said that 'the most enjoyable part of Athletics was the Shot-Put because it gives your hands a bit of a workout instead of your feet', while Lexi Peet (Year 1) said that she 'really liked the racing and winning medals'. We are grateful for the opportunity to run this program in our school this term and look forward to running more programs as the year progresses.
Mr. Nathan Clarke - Primary 3-5 Coordinator
Published on: 31 Mar 2021
Gawler Belt - Senior School
It was wonderful to see so many parents and caregivers at our first round of SPOT meetings that were held on Monday this week. These scheduled meetings provide students with the opportunity to be acknowledge for their achievements this term and to be provided with a number of key learning goals which they will be able to work towards as we progress into Term 2.
A reminder that the second round of interviews is scheduled for Wednesday 7 April, 3:30pm – 8:30pm. It is also important to highlight all of the structures which we have in place to support each student with their learning journey during their time at Xavier. The Oratory teacher is a key first port of call for all families in supporting all dimensions of the student's education and holistic development. Parents and caregivers are encouraged to keep in regular contact with your child's Oratory teacher to keep them informed of any concerns you may have and to share with them any personal celebrations of success which the students may have had as part of the broader range of activities in which they engage beyond the boundaries of the school life. In addition to the Oratory teacher we also now have in place the Study Support Programme for all students which is held each Monday and Thursday afternoon from 3:35 to 4:15pm. As a vibrant learning community we are blessed to have a number of old scholars who provide their time, knowledge and skills to support this new student focused, learning support initiative.
Finally, the individual subject teachers are central to the core teaching and learning process and each child's academic progress and development. Each subject teacher fully utilizes the digital communication tools in SEQTA to communicate learning expectations, due dates, and feedback to each of the students in their care. SEQTA Engage is designed to provide parents and caregivers with the up to the minute academic progress results for each student across each of the subjects in which the students in enrolled. This particular approach provides the opportunity for the implementation of early interventions or the activation of additional support if any areas of concerns are identified. It also provides the opportunity to celebrate different milestones of success on each student's learning journey.
John Cameron
Head of Campus Gawler Belt
Published on: 23 Mar 2021
Halogen Leaders Conference
As a part of their leadership development, Xavier College's House and College Captains attended the Halogen National Young Leaders Conference at the Entertainment Centre Adelaide on Wednesday, 17 March.
The conference was attended by some 500 students and staff from all over South Australia, where strategies were provided to improve the leadership potential of students on an individual and group basis.
Throughout the day participants were enlightened and inspired by guest speakers, including South Australian Governor Hieu Van Le, former Australian Basketballer Laura Hodges, multi ARIA award winning musician and children's author Josh Pyke and the youngest person to circumnavigate the world solo Lachie Smart . Each speaker discussed their own journey from humble beginnings to where they are now and all offered something different for students to take away to further their leadership capacity.
Robert Polito
Assistant Principal - Pastoral Care
Student Leaders Function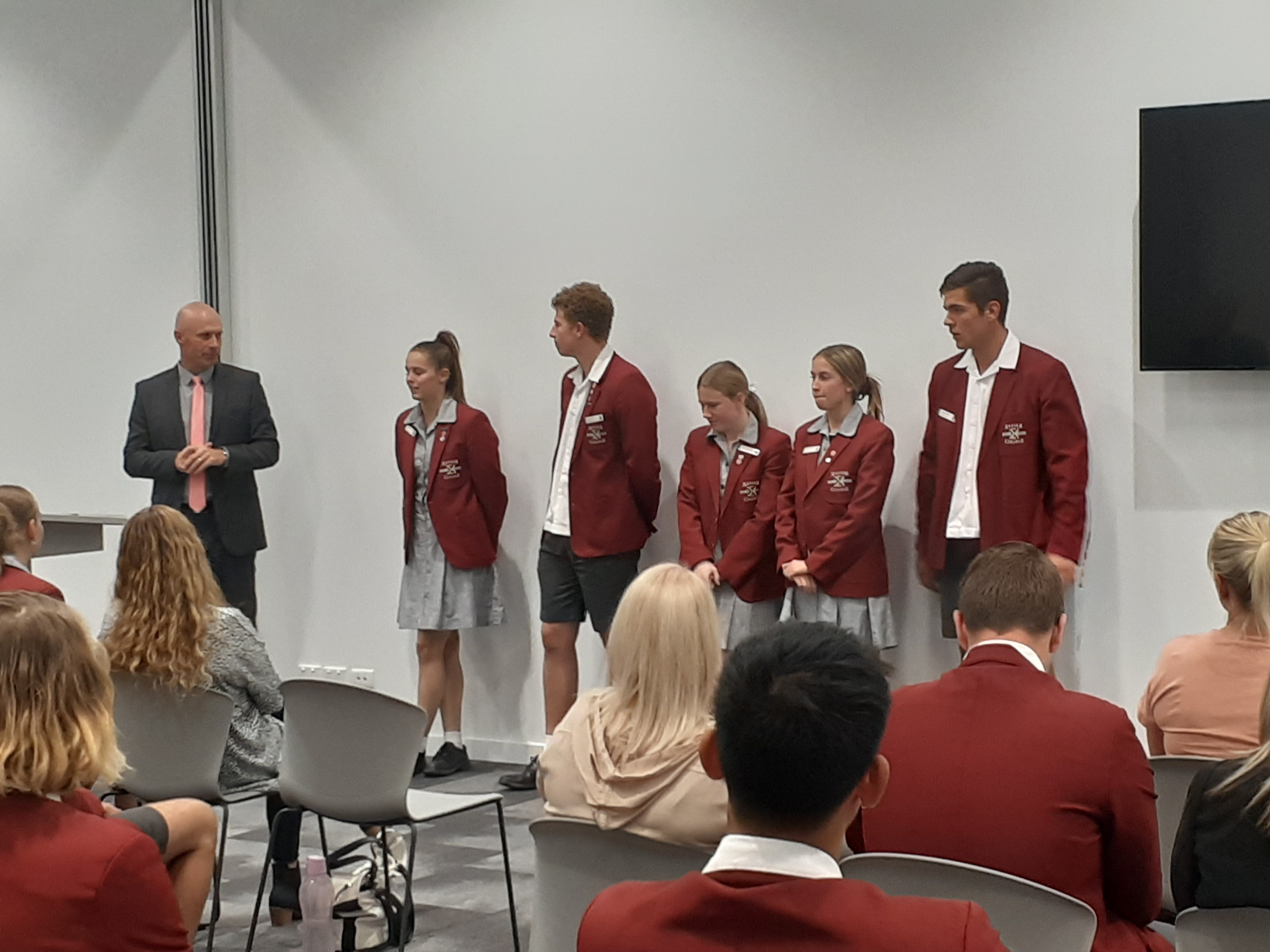 Published on: 29 Mar 2021
Adelaide Writer's week
Year 8 student Elijah Kelly from Mazzarello, was shortlisted in the Adelaide Writer's Week Microstory Competition, congratulations Elijah!!
Published on: 29 Mar 2021
Parent Cyber Safety Presentation - Susan McClean
01 Jun 2021
7:00 PM to 8:30 PM
We will be hosting a Cyber Safety Presentation here at the College for all parents and caregivers. Our presenter will be Susan McLean who is the foremost expert in the area of cyber safety and was a member of the Victorian Police for 27 years. All parents and caregivers are warmly invited to attend this event. Please RSVP to koates@xavier.catholic.edu.au should you wish to attend.
Published on: 14 Dec 2020
Catholic Co-educational Athletic carnival
On Monday 22 March an amazing group of more than 100 students took part in the Catholic Co-Ed Athletics Carnival at SA Athletics Stadium. Athletes were selected from their outstanding performances at the Xavier College Athletics Day.
Before the carnival, we made it our goal to do our absolute best in order to remain in Pool A and not drop down into Pool B. It gives me great pleasure to announce that as a collective unit, we were able to achieve this goal and have secured our placed in Pool A for 2022!! A massive congratulations to all students who participated and gave their very best. You represented Xavier with pride and showed great respect and sportsmanship throughout the day.
We had some outstanding individual results with numerous podium finishes in a range of track and field events. A special mention to Jacob Iadanza who managed to break the 100m and the 200m records in the U13 age group. Congratulations on breaking TWO records, Jacob!
David Savino
Sport Coordinator - Gawler Belt
Published on: 23 Mar 2021
Study Support Program
Xavier Colleges non-intrusive, intermittent yet helpful support from rostered tutors has begun! The weekly sessions running from 3:15pm to 4:15pm in MC17/18 (adjacent student hub) are every Thursday and are staffed with Old Scholars. Attendance is encouraged but not compulsory.
Tutors Wanted
Good with people? Willing to help? Interested in education?
Xavier College are looking for tutors to join our Study Support Programs to help our students achieve further academic success. Please send an email expressing your interest with your CV (with relevant referees) to hr@xavier.catholic.edu.au
Kind regards
Kieran Sankey
Handley House Director - Teaching and Learning
Published on: 23 Mar 2021
Senior Arts Excursion
The Senior Visual Arts students were fortunate to be able to attend the Clarice Beckett 'The present moment 'exhibition at the Art Gallery of South Australia. The presentation of the artwork was a great example of why art needs to be experienced to be truly appreciated. The curators took great care to deliver a day, from morning through to evening, where carefully selected wall colours and even bird song took the audience on a journey through Beckett's vast collection of Impressionist styled works. Each piece captured a moment over the course of days, weeks and years of her life.
After lunch in the city, students then ventured to the Light Square Gallery at the Adelaide College of the Arts to view the SACE Artshow, a collection of the 2020 Year 12 students works from across the state. Here students were inspired by the possibilities in media and technique delivering messages that young people are passionate about. All students returned to school, with a new experience of the arts that will hopefully guide and inspire their future creations.
Mrs Andrea Duregon - Curriculum Leader Arts
Published on: 31 Mar 2021
Nationally Consistent Collection of Data on School Students with Disability (NCCD)
Every year, all schools in Australia participate in the Nationally Consistent Collection of Data on School Students with Disability (NCCD). The NCCD process requires schools to identify information already available in the school about supports provided to students with disability. For further information see the attached letter to Parents and Caregivers.
Published on: 29 Mar 2021
Uniform Shop open
21 Apr 2021
1:00 PM to 5:00 PM
Published on: 29 Mar 2021
Uniform Shop open
22 Apr 2021
9:00 AM to 1:00 PM
Published on: 29 Mar 2021
Community Noticeboard
Published on: 23 Mar 2021