Xavier College Newsletter - Term 1 Week 6
Principal's Welcome
Please watch Principal Mr Mark Flaherty's update to the community.
Meet our new College Chaplain - Fr Damian Sladen SDB
Published on: 17 Feb 2021
Lent and Project Compassion
Three weeks ago, the whole College community acknowledged the beginning of Lent by attending either an community Ash Wednesday service (Gawler) or individual class prayer services (Two Wells). Lent is a time for preparation for Easter. During this time, we asked to focus on changing our lives through prayer, penance and almsgiving – or helping others in need.
The major 'almsgiving' focus for the College is supporting the work of Caritas Australia by donating to their annual Project Compassion appeal. The national appeal runs throughout the entire Lenten Season. At the Two Wells campus Project Compassion is already up and running and it has been great to see the response from the students and families so far. On the Gawler campus a more concentrated campaign will begin in Week 8 and both will end on Holy Thursday, Week 10. Families will be able to make donations through oratories (Gawler) and classes (Two Wells).
Project Compassion brings thousands of Australians together with the world's poor and needy to help break the cycle of poverty, promote justice and uphold human dignity. The campaign strives to raise awareness and stand in solidarity with the millions of people across the world that Caritas helps. This year's theme is "Be More" – to join together in building a more just and fairer world, a world in balance, at peace and free of poverty.
If families would like to find out more about the work of Caritas Australia and Project Compassion, please visit their website: https://lent.caritas.org.au/
Please support Xavier College's ongoing commitment in supporting the work of Caritas Australia by supporting our Project Compassion activity during this season of Lent.
Gareth Watson
Assistant Prinicpal Religious Identity and Mission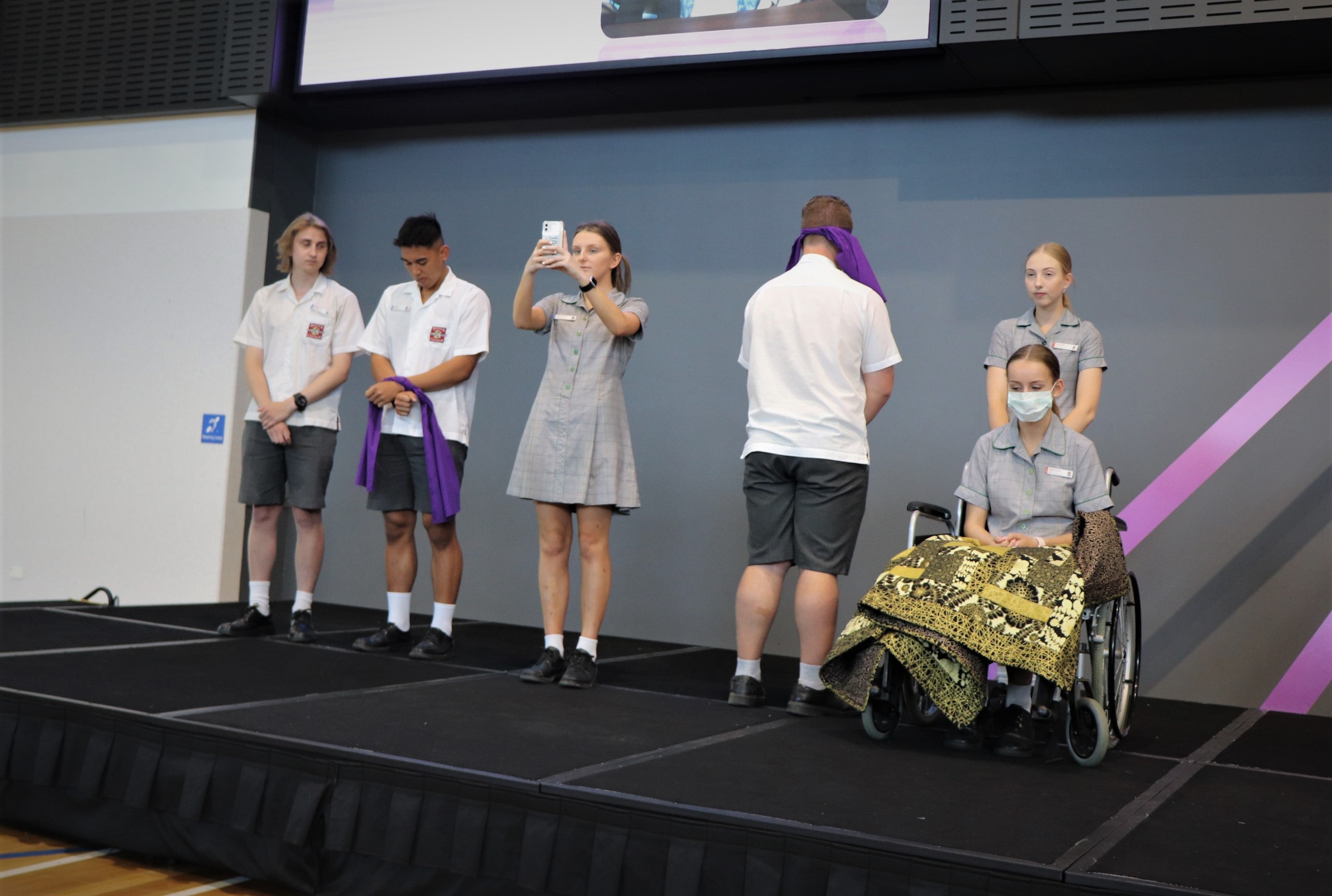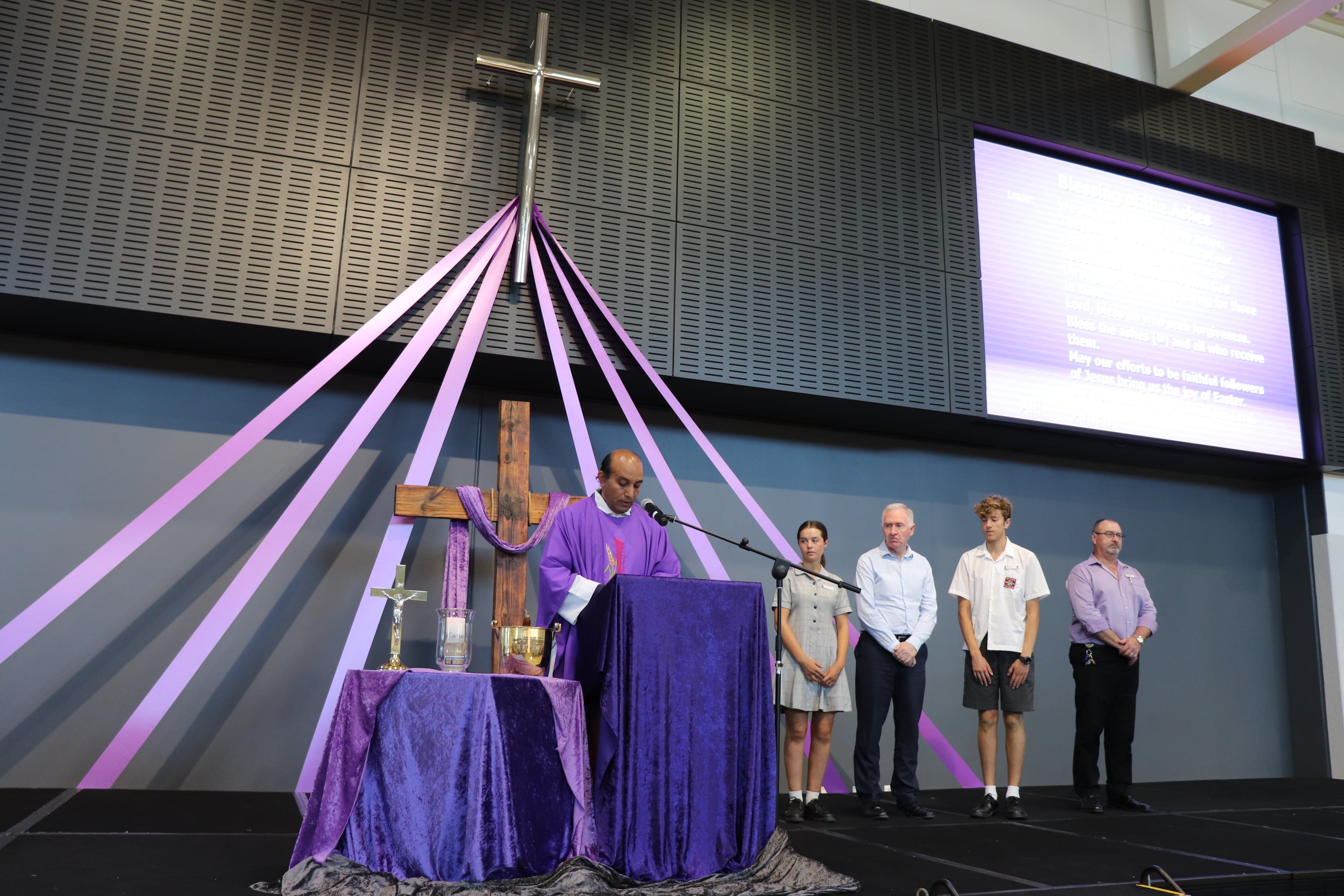 Prev
Showing images
1 - 8
of 15
Next
Published on: 04 Mar 2021
Uniform Shop Update
We are pleased to announce that items from the Uniform Shop are now available to purchase via the Qkr! App.
To order: Open up the App, link up to your local Campus and click on the College Uniforms tab. This will take you to a page where you can choose your delivery date and place your order.
Please note that there is a cut-off time of 12pm the day before for next day collection from Reception at Gawler Belt Campus.
There will be deliveries to Reception desk at Two Wells Campus on Monday (cut-off 12pm Friday), Wednesday (cut-off 12pm Tuesday) & Friday (cut-off 12pm Thursday).
Gawler Belt
The Uniform Shop will now be open on Wednesday mornings between 8am and 9:30 am until the end of Term 1.
Our opening hours for the remainder of Term 1 are:
Monday 2:30pm to 4 pm
Wednesday 8am to 9:30 am
Thursday 2:30pm to 4 pm
Two Wells
There are a small number of Uniform items being kept on-site that are available for purchase. Please see Kim or Vicki in Reception for assistance.
Published on: 05 Mar 2021
College Athletics Carnival
Two Wells Campus
On Tuesday March 2nd we held our first R-12 Sports Carnival. For our younger students from the Two Wells campus, it was their first opportunity to visit Gawler Belt and access the great facilities that they have built. This was a historic event and it was outstanding to witness the athletic ability that is the future of Xavier College. All students participated with excellent sportsmanship and the smiles on their faces was the true symbol of the day's success.
Congratulations and thank you to all members of staff who contributed to the organisation and running of the day. Without their support and management of students, the day would not have run as smoothly. Thank you also to the parents, grandparents, family and friends who came out to support and cheer on their children, and a special mention to those who stepped up to show the children how the tug of war was really done!
Our property team had the soccer pitch and surrounding area in great condition for the day and their hours of preparation in setting up for the day are greatly appreciated. Thanks to staff from the Gawler Belt Campus for organising a canteen and organising set-up so that we could safely manage parent attendance on the day. Finally, a huge thanks to Mr David Savino from the Gawler Belt, for his awesome work in helping to organise the event and especially the opportunity for both Campuses to join up at the end of the day.
Leading into the day, we were sure that our students would work together well from both campuses, and display the qualities of RUAH. We recognised great sportsmanship from all houses, but after a long and enjoyable day, it was the deSales House who managed to pull away with the first ever win for the Xavier, Two Wells Campus. Congratulations de Sales!
Nathan Clarke
Year 3-5 Coordinator
OVERALL RESULTS
de Sales 225
Mazzarello 201
Handley 199
Occhiena 181
Two Wells Campus - Student Photos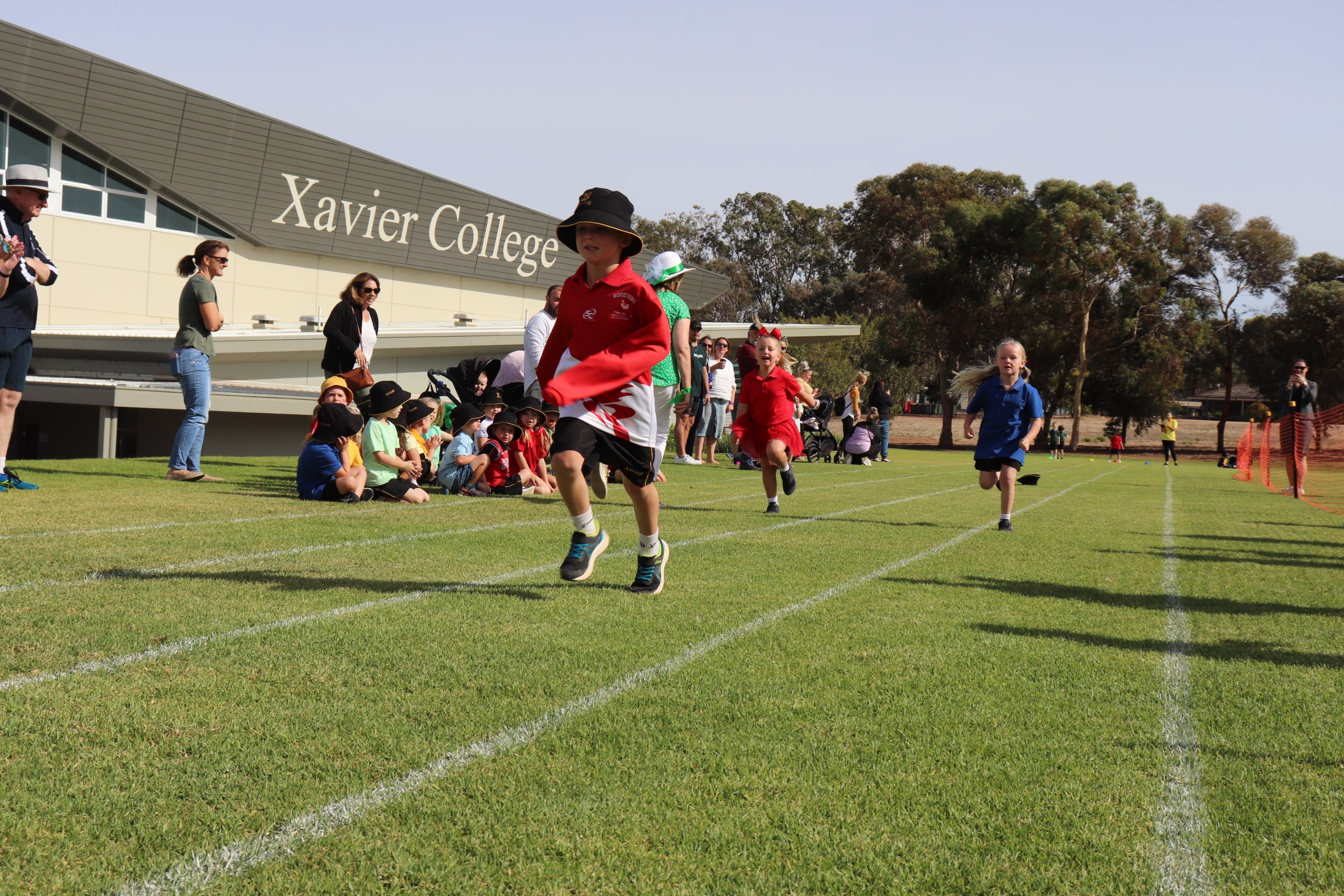 Prev
Showing images
1 - 8
of 24
Next
Gawler Belt Campus
What a day it was on Tuesday March 2nd when we held our annual Xavier College Athletics Carnival, and for the very first time, the primary students from Xavier College Two Wells joined us as we celebrated as a whole Xavier College community. It was fantastic to witness the Reception – Year 6 students complete their events on the Soccer Pitch in the morning, before joining the 7 – 12 students down on the Oval in the afternoon for the running relays. It was a magnificent sight to see the primary students dressed in their house colours and join up with their respective Houses to cheer on their competitors.
As in previous years, the quality of athletic ability on show and the high level of participation made for an extremely exciting spectacle. There were some truly outstanding performances and several records were broken. Congratulations to all students who participated and contributed to an outstanding carnival, and a special mention must also go to all Age Group Winners and Runners Up.
I would also like to pass on my thanks to all members of staff who contributed to the planning and running of the day, as well as the Pre Athletics Day events. The field events ran smoothly and the team of staff organising the track, led by Mr Pinchbeck and Mr Polito, operated like a well-oiled machine.
Our Property Team had the oval in immaculate condition for the day and their tireless work in preparation for the day was greatly appreciated. Thanks to Mrs Hutton and the administration team for keeping the masses fed and for ensuring our students were safe throughout the day. Mr Sankey was amazing on the microphone as our announcer and a huge thanks also to Mrs Wood for her amazing work and support behind the scenes to help put together one of the smoothest running Athletics Days in memory. Lastly, thank you to all the parents who came out to support and watch our wonderful students.
In lead up to the Carnival, each age group completed five events, including the 1500m and 800m runs during Oratory time and these finished with all four Houses close enough to be in contention. Scores remained close throughout the day, but it was Handley that slowly pulled away. As the day drew to a close, the cup was still up for grabs but performances in the 100m finals and the ever competitive relays saw Handley triumph, and for an incredible FIFTH year in a row! Congratulations Handley!
OVERALL RESULTS
1st Place - Handley 3914 pts
2nd Place - Occhiena 3832 pts
3rd Place - Mazzarello 3524 pts
4th Place - de Sales 3159 pts
I thought Athletics Carnival was awesome this year. My favourite events were High Jump and Long Jump. My favourite part of the day was participating in my events, but also taking photos with friends and just having an all-round great day. I really loved the Xavier College Two Wells students coming down to join us in the afternoon. It was really cool to see them do the relay!
- Campbell Simpson (Year 8)
AGE GROUP RESULTS:
U13 Girls Champion Mahalia Cowley
U13 Girls Runner Up Kiara Macdonald
U13 Boys Champion Jacob Iadanza
U13 Boys Runner Up Oliver Sibbick
U14 Girls Champion Sophie Bevis
U14 Girls Runner Up Paiton Duncan
U14 Boys Champion Dyson Sharp
U14 Boys Runner Up Mitchell Rowe
U15 Girls Champion Keeley Hurst
U15 Girls Runner Up Kirra Tonkin
U15 Boys Champion Riley McDonald
U15 Boys Runner Up Ryan Lane-Ellis
U16 Girls Champion Arliah Preece
U16 Girls Runner Up Mia Grayshon
U16 Boys Champion Ben Debono
U16 Boys Runner Up Zachary Sadiwnyk
Open Girls Champion Kayla McInerney
Open Girls Runner Up Tia Leslie & Jasmine Koch
Open Boys Champion Ryan Sibbick
Open Boys Runner Up Thomas Bint
Dave Savino
Sport Coordinator
Gawler Belt Campus - Student Photos
Prev
Showing images
1 - 8
of 9
Next
Published on: 04 Mar 2021
Two Wells - Junior School
The last few weeks have been a whirlwind, but a whirlwind of delight! It has been great to see everyone work together as a team to help create a thriving community. I am so incredibly proud and grateful for our wonderful staff, students and families.
We have seen a lot of diagnostic testing take place in class. This assists us in tailoring our Literacy and Numeracy programs to meet your child's needs. Some students will receive communication about participation in specific Literacy programs; please feel free to discuss this with our class teacher if you require further clarification. Teachers have done an exceptional job collecting and collating data, and are full steam ahead with the delivery of curriculum.
Many of you have already engaged with our SEQTA portal. Technology often brings issues, so if you experience any please let us know and we will work through them together. Likewise, many people have accessed online bookings for lunch orders. This will involve you downloading and using the Qkr! app. Lunch orders are available on Mondays, Wednesdays and Fridays.
As you may know, pastoral care is integral to us at Xavier College, and at the Gawler Belt campus the House and Oratory has formed a big part of this. From Years 7 to 12, the Oratory teacher heads up the vertically streamed class and is the first port of call for students and families. At our Two Wells campus, class teachers actively work on creating positive relationships and are the first port of call for students and families, but we have also introduced our abridged Oratory classes. Every second Friday, our students will go to their Oratory, which is also vertically streamed. We have held our first Oratory sessions, which saw our older students step up and show amazing leadership skills with our younger students. Together we worked on sports day, practiced the health hustle, and talked about our core values of RUAH.
Parent interviews will be conducted on March 18th from 9am – 8pm. You are able to make bookings online using the same portal that was used for Meet the Teacher. We ask that you bring your child with you, and they attend wearing their College uniform. If you require OSHC, it will be operational all day and commence from 6:30 am – 6:30 pm. Bookings are essential.
This week saw a significant event in the history of the College with the official Opening and Blessing of the Lynn Martin Building. It was a wonderful celebration, and our great joy to have Lynn's family join us for the event. Archbishop O'Regan officially blessed each room, and stifled a giggle when one Reception student said "Hi Mr Archbishop"! We are grateful for the work of many who made the event possible, but in particular I would like to acknowledge Mr Gareth Watson, and Mr Anthony Sutton and Mrs Janine Atkinson for their countless hours of hard work.
The same week saw our first combined Sports day as a College – please read the piece written by Nathan Clarke. I would like to thank Nathan, Nick Skewes, David Savino, and the College Maintenance team for all of their hard work. It was a wonderful day!
Finally, we would like to once again thank you for your support of us as a community. We love that we are here, and we look forward to working with you all.
Janet Coomber
Head of Campus Two Wells
Published on: 17 Feb 2021
Reception Jefferys
We have had a fantastic start to the school year in Reception Jefferys. We have done lots of cool activities already at school. We've learnt about Prayer, the importance of sharing, being a kind friend, A and B choices and we've even spent some time with our Big Buddies in Mr Skewes Year 6 class. We can't wait for the year ahead!
Published on: 04 Mar 2021
Gawler Belt - Senior School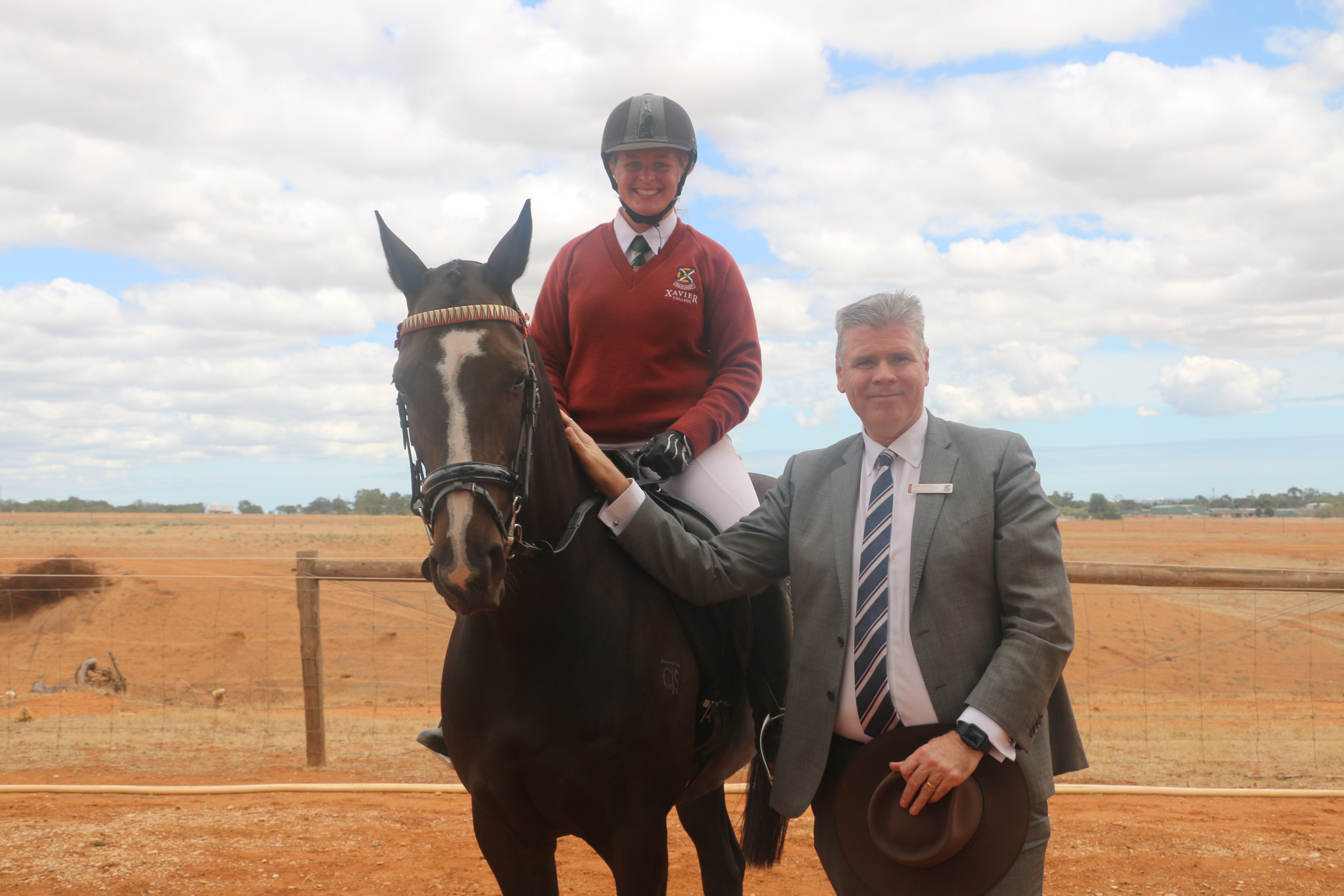 As a College we are delighted to be entrusted by the parents and caregivers with the care of your children over during their time here at the College. As a Catholic College in the Salesian Tradition we are deeply devoted to educating the whole person across all the dimensions of what it is to be truly human.
 We are passionate about creating opportunities for the students to form connections with each other and to be connected to our community. A community in which each and every child is truly known. Finally, I would like to highlight the importance of working in communion together - parents, caregivers and the staff here at the College. With the view to supporting each and every student to truly thrive and be the best they can be.
We are also excited to introduce to our community a number of new initiatives this year:
Study support

programme

for students 7-12

A n

ew digital newsletter

A n

ew College

calendar

The use of

Direqt

M

essaging in SEQTA

We have also introduced a

Certificate II in Engineering Pathways

And finally, a

new

'

Step Change

I

nitiative

'

which will involve the College working in close collaboration

with the Catholic Education Office to improve all facets of

learning & teaching using a comprehensive data informed approach to continuous whole school improvement.
As we reach the halfway mark of Term 1 we have had a number of significant events which we have been able to celebrate as a community. From the Catholic Co-Educational Swimming Carnival and the Year 7 Camp along with the interschool Gymkhana all of which were held in Week 5 along with our extremely successful Athletics Day which was held on Tuesday this week.
John Cameron
Head of Campus Gawler Belt
Published on: 17 Feb 2021
Year 7 Camp reflections
Year 7 students attended an orientation camp in Victor Harbor from Wednesday 24th – Friday 26th February. They were joined by a select group of year 11 student leaders and staff to facilitate a range of activities designed to engage students in collaboration and fun. Please see a selection of photos and student reflections provided here to give you a sense of the amazing time that was had by all who attended. I really enjoyed this year's camp. I haven't laughed like that for a while. I enjoyed every activity, especially the kayaking down the river. Everyone was so much fun in my tribe and I don't think it would've been the same without them. They all were the main reason I loved this camp so much. I want to thank all of them for the amazing time they shared with me.I want to thank everyone- students, teachers, staff- for this year's camp because I loved it with all my heart. Charlotte
My high light of camp was having an amazing experience on the Flying Kiwi, being able to swing in the air and being in a tribe with people I don't talk to and have now become friends with. Alexis
On my first day of camp, it was a little confusing going from the first activity to afternoon tea to dinner to dorms etc. But, it was extremely fun: getting shot into the air using a human pulley system, (flying kiwi,) throwing water buckets at each other, (water obstacles,) and overall using as much knowledge and creativity I could. By the second day, the routine of waking up, eating, doing all the activities, doing the dances, etc. was enthralling even though being a little exhausting. Some activities were done by one tribe at a time for team building, others were a competition between two tribes, (which was really fun). In the end, I made new friends, knew more people, had fun, and made a long-lasting memory. I also enjoyed writing the letter to myself, not only for the fun of writing a letter to our future selves, but for the fact that even in the final days of finishing high school, I will remember the days when high school turned from a schooling experience to a friend-filled home that's going to last for a long time. Cooper
Some things I like about camp is that I got to talk and connect with different students. I got introduced to new people which led to making new friends. Another reason is that I got to do so many different fun activities both with my tribe and girls at the other campsite. I learnt new tips and skills about teamwork as well as learning many lessons when growing up and life. My final highlight to camp is that we got to see new places such as Victor Harbor and facilities around it. The beach, river and sun set/rise was beautiful. Talking with my friends when travelling, in dorms, my tribe and even eating was extremely fun and made me very happy. Seeing photos of camp helped me realise that I am very grateful to have friends and to be able to go to camp. Thank you so much! 😊 Serelyna
I loved doing the liturgy on Thursday night, it gave me the chance to forget about everything else and just focus on God and how he was helping me build new relationships with friends and giving me the courage to talk to new people, open up about my struggles to my best friends and it let me focus on what I want in life and how I'm going to get there. I got very emotional righting my letter to myself for year 12 and I can't wait to see how far I've come. The mountain biking was my last activity and it was a nice way to finish the camp of. Riding along the bike track down the side of the beach was an amazing view out to the water and it was also really nice weather. Makaydee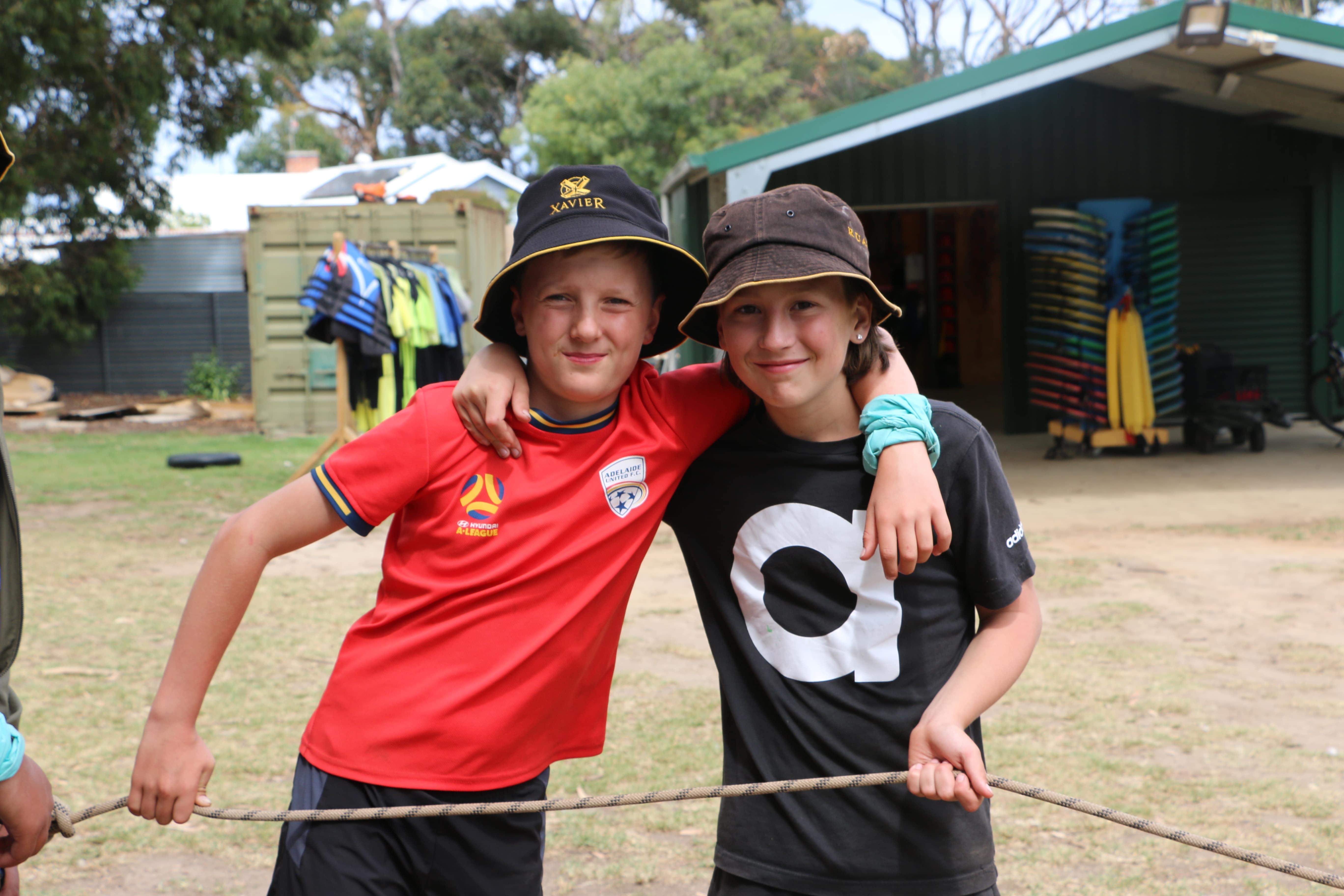 Prev
Showing images
1 - 8
of 10
Next
Published on: 05 Mar 2021
Gymkhana 2021
Published on: 04 Mar 2021
Year 12 Formal - Photos
Prev
Showing images
1 - 8
of 22
Next
Published on: 04 Mar 2021
Pedal Prix
Xavier College has been involved in the UniSA Human Powered Vehicle Super Series for over 18 years and looks forward to an exciting season in 2021. We welcome new members from Years 7-12 and returning riders to the team. Students participate on various levels, whether that be training only, competition, or assisting with the race preparation. It is a fabulous opportunity for families to get involved in a school event, which gives students an opportunity to gain fitness, endurance, mechanical knowledge, and teamwork skills.
The 2021 season has been adjusted to fit within the COVID guidelines, including 8-hour and 12-hour races at Tailem Bend, a 6-hour race at Victoria Park, and 2 six-hour races on consecutive days at Murray Bridge.
Training takes place each Tuesday and Thursday afternoon at school from 3.15 pm until 4.30pm using the College's training trikes on the designated track plus other facilities. Optional weekend training also occurs at venues including Xavier College, local bike paths and Victoria Park.
Any interested students are welcome to come out to training, which will commence on Thursday 4th March. For further information please see Mrs Bakker or Mr Welsh in the Hub, or send an email jbakker@xavier.catholic.edu.au
Published on: 17 Feb 2021
Year 9 Science
As part of the Year 9 Chemical Science course the students learn about chemical reactions and how chemicals interact. This course gives us many opportunities to be involved in fun, hands-on practical investigations. Practical science activities have huge significance in the learning process. They engage students, help them develop important skills, encourage an understanding of the process of scientific investigation and develop a broad understanding of scientific concepts.
Students have experienced many examples of chemical change without actually realising it. They are familiar with burning, cooking, rusting and chemical processes. During their investigation at school, the students mixed various chemicals and observed the changes that accompany a chemical reaction such as colour change, formation of a precipitate or gas, etc. They then had to write word equations explaining their observations. This resulted in an understanding of chemical change that is fundamental to appreciating the role of chemistry in their everyday lives.
Ms Petone May
Handley House - Science Teacher
Published on: 17 Feb 2021