Xavier College Newsletter - Term 1 Week 2
Principal's Welcome
Please watch Principal Mr Mark Flaherty's welcome video to the community for 2021.
Published on: 03 Feb 2021
Class of 2020 Outstanding Results
Despite the unprecedented challenges of the year, the Class of 2020 have distinguished themselves with some outstanding results.
Once again Xavier College achieved 100% SACE completion for the fifth year in a row.
19 students achieved an ATAR of 90 or above.
23 student grades reached A+ with 6 of these achieving SACE Merits (7 merits in total).
31.4% of student grades were in the A band.
83.1% of student grades were B or above.
100% of our student grades were C or above.
95% of students achieved an ATAR.
100% of students who applied for a University Course were offered a course.
Ethan White was awarded the Order of Australia Student Citizenship Award - only three students from within Catholic Education South Australia schools and ten in total from the state were invited to Government House to receive this award from the Governor of South Australia.
David Sutton is our 2020 College Dux with a score of 98.95. David also achieved the SACE Governor's Excellence Award – that's a great achievement and the fourth time in 7 years that a Xavier student has been received this prestigious Award.
Xavier College would like to wish all members of the Class of 2020 all the best for the future and we look forward to hearing of their future successes as they strive to become honest citizens and good Christians.
Paul Taylor
Assistant Principal - Teaching and Learning
Published on: 05 Feb 2021
Two Wells - Junior School
What a wonderful start we have had to the year at our brand new Two Wells campus. I would like to wholeheartedly thank the people who have worked so hard to make this happen; many of who have done countless hours behind the scenes. Amongst them are Anthony Sutton, Carolyn Pape, Liz Polljonker, Karl Barber, Deryck Pinchbeck, Janine Atkinson, Kim McDonald, Rachel Brooke, Lynette Hutton, Kerry Oates, Jo Bakker, Rob Welsh, Anthea Cook, Mandy Taylor, Felicity Clark, Natalie Lane, Robyn Mercer, the Xavier College maintenance team, and all the amazing staff who have helped with enrollments, orders, and finances.
Of course, I wish to thank the community for their support of us. Without you, we would not be us – we are truly a team, and we appreciate all the trust you have shown us.
It was an emotional moment to have our amazing teaching staff and support staff walk in the doors, and even more so when our students arrived. We look forward to growing together as a strong community.
Janet Coomber
Head of Campus Two Wells
Published on: 05 Feb 2021
Gawler Belt - Senior School
As we commence the 2021 Academic Year Xavier College is delighted to be starting a new chapter in its history with the opening of our Two Wells Campus. The Campus welcomed its very first students through the gates on Monday morning this week. Here at our Gawler Belt Campus we have over 1030 students, Year 7-12 enrolled at the College. This year we will be focusing on a broad range of initiatives each of which are designed to enhance students sense of connectedness and agency in their learning pursuits. Two key initiatives will be the formation of a student centered Wellbeing Framework and a student centered Learning and Teaching Framework.
With the view to providing our students with a supportive and nurturing learning environment we will also be launching our Xavier Study Support Programme in the coming weeks. The purpose of this programme is to further enhance the existing support offered to the students from a number of our teachers who engage in facilitating small group work along with one-on-one study support in selected subject areas in the College Hub after school. Underpinning this new initiative is Dr Neil McGoran's vision for excellence across all Catholic schools in South Australia. One of our key focusses is to provide students with a nurturing and caring learning environment in which they can develop the skills to be capable learners and to truly flourish.
"We are an educational sector that is committed to providing excellence for every child whose learning and education is entrusted to our care. We want every student to experience success according to their unique characteristics and talent". Dr Neil McGoran - Director, Catholic Education South Australia
John Cameron
Head of Campus Gawler Belt
Published on: 03 Feb 2021
Year 7 and 12 First Day
Xavier College believes whole heartedly that community, and family is at the centre of our Salesian ethos. This is why our Year 12 cohort, whom we are extremely proud of, spent the day with our Year 7 students on their first day. Our senior students' focus was to support our newest young people and to help them settle-in; really creating a 'home that welcomes'. The House Directors spent the afternoon with our Year 7 students where it was confirmed that a positive first day was had by all.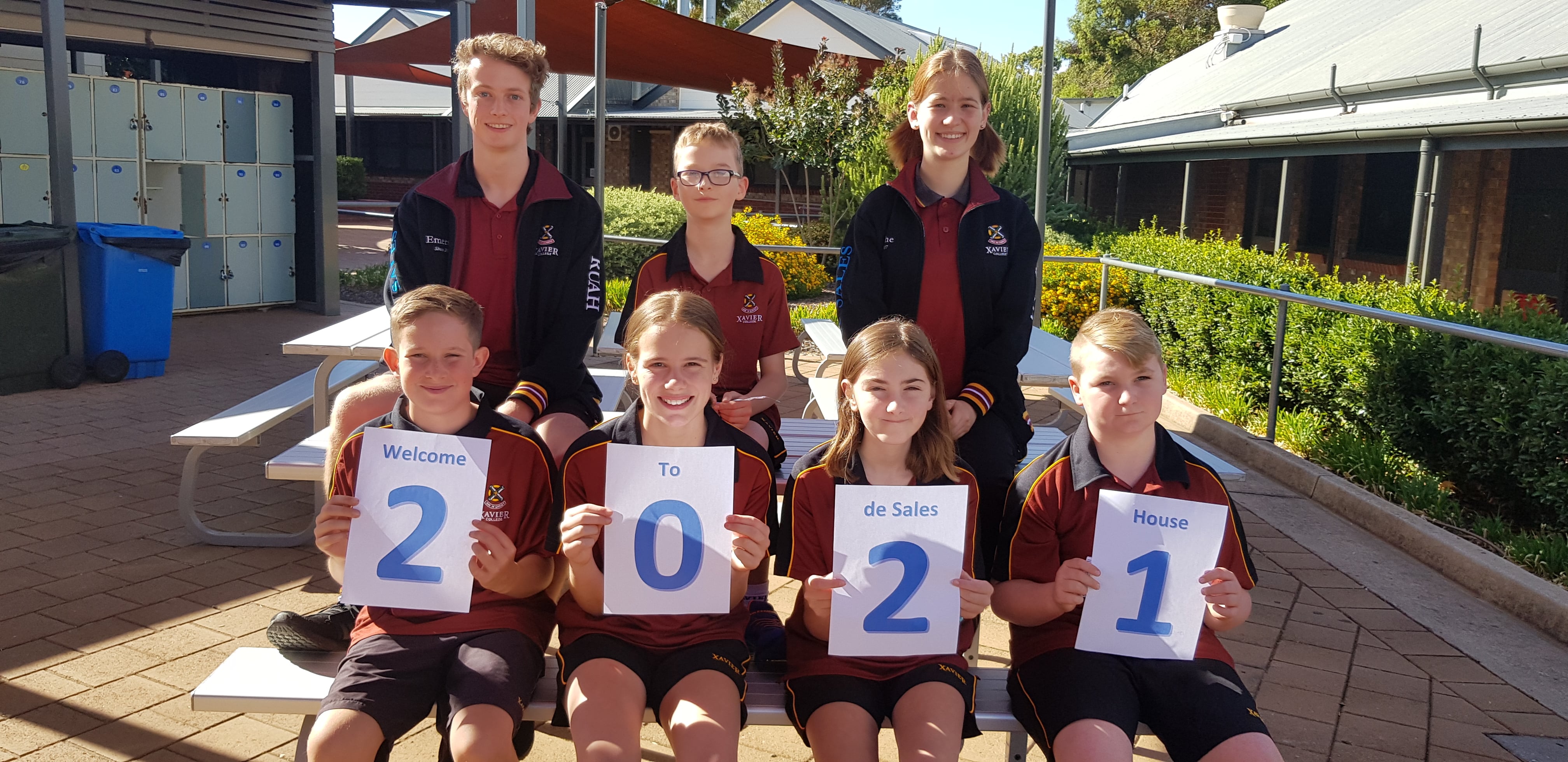 Published on: 05 Feb 2021
Year 7 Peer Support Program
During Term 1 students will be involved in the Peer Support Program. Each week, groups of students will meet with two Peer Leaders and work through a range of activities that focus on building connections and addressing a range of behaviours including the prevention of bullying. Meeting in small groups allows meaningful connections to form, assisting students with the transition to secondary school. Over a period of 8 weeks students will acknowledge their strengths and learn skills to build resilience, identify how to develop, maintain and repair friendships, develop understanding of a range of behaviours including bullying and learn strategies in order to respond appropriately in a variety of situations.
Last week we held our first session of the Xavier Peer Support Program run for year 7 students by year 10 peer leaders who have been trained to lead the sessions. The focus was on meeting others and making connections. Fun activities included games to find things in common and sharing experiences.
Denise Piggott
Handley House Director - Pastoral Care
Published on: 05 Feb 2021
Inclusive Education
SPELD SA are presenting ten free parent workshops at Eudunda Area School on February 26th and 27th that may be of interest to some of our families. The workshops are suitable for parents of children in preschool, junior, primary and secondary school. The main presenters is Sandy Russo, who has presented to Xavier College staff previously and is amazingly knowledgeable and relevant. If you are interested, please book early, as numbers are limited, at the following link:
Jo Baker
Inclusive Education Coordinator
Please see other community information below:
Published on: 05 Feb 2021
Occhiena - Welcome to House - Year 7
08 Feb 2021
6:30 PM to 7:30 PM
College Gymnasium
1 Kentish Road, Gawler, 5118, SA
Published on: 17 Nov 2020
de Sales - Welcome to House - Year 7
10 Feb 2021
6:30 PM to 7:30 PM
College Gymnasium
1 Kentish Road, Gawler, 5118, SA
Published on: 17 Nov 2020
Year 12 Student free day
12 Feb 2021
12:00 AM to 11:59 PM
Published on: 18 Nov 2020
Year 12 Formal
12 Feb 2021
7:00 PM to 11:00 PM
Published on: 18 Nov 2020
Ash Wednesday College Liturgy - Senior School
17 Feb 2021
9:00 AM to 10:00 AM
Published on: 18 Nov 2020
Ash Wednesday College Liturgy - Junior School
17 Feb 2021
11:30 AM to 12:00 PM
Published on: 18 Nov 2020