Xavier College Newsletter - Term 2 Week 2
Principal's Welcome
Welcome back for the commencement of Term 2. I hope all students, parents and staff enjoyed a little down time over the Easter and ANZAC Day period.
I would like to take this opportunity to acknowledge our mothers and hope you enjoyed a lovely day on Sunday.
I would like to welcome all new families who have joined the Xavier College community this Term at both our Two Wells and Gawler Belt Campuses and those that will join us as the Term progresses.
COVID-19
This highly contagious disease has restricted many activities over the past two years and potentially will continue to do so. I ask for parental and staff support as we continue to deliver a quality education to our students in as safe as possible a manner as we can.
Can I ask our community to therefore please be vigilant around the following:
Wear a mask while at the College (including students, where applicable)
Keep your child at home if they feel unwell (even the mildest of symptoms) or if they test positive for COVID-19
Notify the College as soon as possible if your child tests positive for COVID-19
Thank you for your continued support.
Mark Flaherty
Principal
Published on: 12 May 2022
Thank You!
Catholic Education Week (9 - 13 May) is an opportunity to say 'thank you' to all the hard-working, supportive, and caring people that make our Catholic schools so special. This year we are celebrating the staff and teachers in Catholic schools that contribute so much. Raising Hearts and Minds is a team effort!
Published on: 12 May 2022
Project Compassion
Each year, the College supports Caritas Australia's work both here in Australia and overseas by raising funds for their annual Project Compassion campaign during the Season of Lent.
We would like to thank all members of the Xavier College community for their continued support of the work of Caritas.
This year, as a community we were able to raise $10,153.65 across both Campuses to help Caritas' vital work.
Thank you once again for supporting this vital work of Caritas Australia.
Gareth Watson
Assistant Principal Religious Identity and Mission
Published on: 12 May 2022
Bus Travel - Transportme Rollout
A new bus ticketing system will be rolling out on the LinkSA services chartered by Xavier College.
The system is currently installed on two buses with the remaining services being connected over the next few weeks. Our initial rollout will commence with the Intercampus Shuttle and the West (XAV-W) route with Transportme passes being issued from Monday, 16 May 2022.
The pass is similar to a credit card. Students will be required to scan their pass when they board the bus and then again when they disembark at their destination. The Transportme system provides the College and parents with real-time information regarding which students are on each bus at any point along the route.
There will be a one-off charge of $5.00 to purchase a Transportme card; students will be required to hold a Transportme card in order to purchase tickets (Casual, Day, AM, and PM).
Intercampus Shuttle
All students need to use a Transportme card to travel on the Intercampus Shuttle, even though travelling from Gawler Belt Campus to Two Wells Campus will not incur a fee. Students being picked up/dropped off at a stop in between either Campus will need to recharge their Transportme cards with the appropriate tickets.
Term Passes
Reminder: Term Passes must be purchased before the end of Week 2 at the start of every Term.
The initial $5.00 to purchase a Transportme card will be included in the cost of Term Passes. The card is not required to be purchased separately.
Any lost passes will need to be replaced at a cost of $5.00.
Payments for passes can be made using the Qkr! App or by contacting the Front Office of your students' Campus.
Should you have any questions, please contact the College.
Published on: 13 May 2022
Enrolment Application Closure Date May 31 2022
Evanston Campus - Opening 2023
We are excited to announce the opening of our third Campus in Evanston, accommodating Reception to Year 6 students. We are now taking Applications for Enrolment commencing mid-year in 2022, 2023 and beyond.
Two Wells Campus
Limited places remain for Reception to Year 9 in 2023.
Applications for Enrolment for Reception to Year 7 will close soon for 2024.
Gawler Belt Campus
We strongly urge families to submit Applications for Enrolment for Year 7 in 2024 prior to the cut off date.
All Applications close for 2024 Enrolments on 31 May 2022.
If you have additional children you intend to enrol at the College for Year 7 in the future, we recommend submitting these Applications at the same time.
If you require further Application for Enrolment Forms or if you have any questions, please don't hesitate to contact the College Registrar, Victoria via email registrar@xavier.catholic.edu.au
Victoria Hall
College Registrar
Published on: 12 May 2022
Term 2 Fee Statements
Statements for Term 2 have now been mailed to families. If you have questions or concerns about your statement, please contact the College Accounts Manager, or email finance@xavier.catholic.edu.au.
Kristin Jacoby
College Accounts Manager
Published on: 12 May 2022
This month on SchoolTV - Screen Time
As a result of the global pandemic, there has been a noticeable shift in the amount of time people spend on screen-based devices. Families are transitioning back to pre-COVID routines but many are still struggling to re-establish the boundaries and rules around screen use. Some continue to deal with digital conflict and tech-tantrums on a daily basis.
The latest research found that 77% of teenagers spend more than five hours on screens per day, but it is important to note that not all screen time is considered equal. Parents play a crucial role in modelling a positive and healthy approach to using screens and assisting children to navigate the content they watch. It is better to model and mentor screen use, rather than monitor it. Children tend to do more of what they see us do, and less of what we tell them to do.
However, it is still important to outline the risks and highlight the benefits of screen use to ensure you keep a balanced attitude. Encourage discussions around the issues that people experience in monitoring their screen time and be honest about your own difficulties. Parents need to remain firm in their approach to managing screen time. Excessive screen time can be detrimental to a child's overall wellbeing. Ensuring the correct privacy settings are in place is vital to prevent children from being inadvertently exposed to inappropriate content or online predators. Parents need to also be mindful of the potential impact screen time can have on a child's social, emotional, educational, behavioural, and even physical domains.
In this edition of SchoolTV, care-givers will be provided with a range of guidelines and strategies to help manage screen time at home. We hope you take time to reflect on the information offered in this month's edition, and we always welcome your feedback. If you do have any concerns about the wellbeing of your child, please contact the school for further information or seek medical or professional help.
John Cameron
Head of Campus - Gawler Belt
Published on: 12 May 2022
Federal Election 2022
Education is an important topic at every election. As we head towards the Federal Election on May 21, Catholics are being asked to consider how their vote will benefit the whole community. It is essential that everybody who cares about Catholic schools understands the key issues. A number of resources are available at www.cesa.catholic.edu.au/federal-election.
Published on: 12 May 2022
Gawler Belt - Head of Campus
2022 College Athletics Day
The College was delighted to be able to launch our Athletics Day on Monday this week after having to reschedule twice due to COVID-19 restrictions and inclement weather forecasts. Thank you to our Sport Coordinator, David Savino and the College Grounds and Maintenance team for all of their preparation work which ensured that the day was a success for all students.
2022 NAPLAN
This week saw the reintroduction of NAPLAN to all schools across Australia after a brief pause due to COVID-19 restrictions. Our Year 7 and Year 9 students have done an amazing job preparing for their series of online tests which commenced on Tuesday this week. We wish them all the very best for this cycle of testing.
John Cameron
Head of Campus - Gawler Belt
Published on: 12 May 2022
Gawler Belt - Senior Religious Education
In Senior Religious Education this year we are continuing our work in the Integrated Learning Space with a particular focus on our call to action and service to people in our local community. In the Year 12 curriculum, students are challenged to research, plan and develop an 'action' that can help local Catholic charities.
Students chose to help the vastly different Catholic charities that are located across Adelaide – including The Hutt Street Centre, Catherine House, Fred's Van and St Vincent de Paul. Below are some photos of how our students aimed to help and promote these charities in our College community, through presentations, education sessions, activities with younger students, and cooking and preparing hundreds of hot meals for donation.
In conversation with our senior students, it is lovely to hear their positive experiences they have had whilst doing this project as well as the gratitude they feel for the good in their life. I am always proud to see the students' engagement and enthusiasm in their learning as well as the Christian Citizenship dimension of the College.
Nadine Smart
Curriculum Leader - Religious Education
Published on: 12 May 2022
Gawler Belt - Senior Art Excursion
On Monday 4th April the senior Visual and Creative Arts students and their teachers were fortunate enough to be able to travel to the city on our annual arts excursion. Students attended the 2022 Adelaide Biennial of Australian Art: Free/State at the AGSA. The theme Free/State refers to South Australia's status as the only freely settled state, but the definition allows artists and their audiences the ability to explore the boundaries of the meaning.
After a quick lunch stop students visited the Adelaide College of the Arts which hosts the Year 12 SACE Art Show each year. Senior students were able to view folio work and final pieces selected for the exhibition from the 2021 cohort of Year 12 students from across the state. Hopefully some of our current students may be chosen to exhibit their work next year.
The last stop was to the Jam Factory where students were able to tour the glass blowing workshops and speak to artists in their studios about the interesting work they do. A stunning autumn day, filled with so much inspiration will hopefully fuel their creative minds for months to come.
Andrea Duregon
Curriculum Leader - Arts
The Year 12 SACE exhibition has really helped me as I was able to gather more ideas and guidance for my own work. I really enjoyed seeing further opportunities in art when we visited the Jam Factory, this experience has also encouraged me to try ceramics in my own time.
Wintah Chin - Year 12
I found the day to be a real eye-opener to all the incredible and unique artworks being created by so many amazing artists. The Year 12 SACE exhibition really motivated me to think outside the box when it comes to ideas and concepts for my future artwork pieces. The whole day was a blast and a very enjoyable time spent with the two art classes.
Odette Hart - Year 11
I really enjoyed the exhibition, specifically how all the Aboriginal artists showed their culture through different mediums and Yayoi Kusama's interactive dot room. The Year 12 exhibit and their folios gave me lots of examples of how ideas are developed and the different (often large) forms their final artworks may take, which I believe will help my folio work and inspiration going forward.
Caitlin Mudge - Year 11
Published on: 12 May 2022
Gawler Belt - Pedal Prix This Weekend
The Pedal Prix team will be competing in their first competiton of the year tomorrow, Saturday 14 May, at The Bend Motorsport Park. If you're in the area, stop by to cheer on our students. Wishing our team the best of luck!
Published on: 13 May 2022
Two Wells - Head of Campus
It was wonderful to welcome our Two Wells community back and to commence Term 2. It didn't take long to get back into the swing of things after the break, with lots of excited faces eager to see friends and classmates.
The school term break also encompassed Easter and Anzac Day, which brought their own stories with them. Thank you to the Lester family for representing Xavier College at the Two Wells Service; this is one of significance given the closure of the local RSL. I would also like to acknowledge Loulu who set up an apple juice stand in the holidays to continue to raise money for Project Compassion. Loulu is the epitome of kindness and generosity, and always looks for ways to help others (best juice in Dutton Bay!)
We extend our congratulations to Pypah and Nyah for their recent success horse riding in the Southern Cross Show Horse Spectacular and the Grand Nationals. Both girls have achieved incredible results, and will be a force to be reckoned with in the future.
The second stage of the building has continued to develop - the scale of the building is quite striking and promises to be an impressive addition to our facilities. In addition to the building is the much awaited car park – we are also excited about that! While we wait for the use of the car park, I take the opportunity to remind families that the pick-up/drop off area relies on people utilising it quickly. The current car park is available for families who wish to spend more time saying goodbye to their children, or assisting them into cars.
I take this opportunity to welcome our new vocal teacher Breanne Christie and our new keyboard / piano teacher, Thomas Saunders. Our instrumental program is extremely popular; if you are interested in your child receiving instrumental/vocal lessons, please contact Ben Paparella at the College.
With Covid restrictions easing slightly, we have been able to hold small student gatherings, which has meant that we are able to hold student speeches for Leadership positions at the Two Wells Campus. There are so many fantastic students on campus, and I wish everyone good luck, and look forward to reporting back to you with the outcome!
As always, we thank our community for their ongoing support of our College, and welcome new students and families into our community.
Janet Coomber
Head of Campus - Two Wells
Published on: 12 May 2022
Two Wells - Holy Week
In Week 11 of Term 1, we celebrated Holy Week.

Students from all year levels starred in videos that were created to retell the story of Easter to the school community. At our Two Wells Campus, throughout Holy Week each morning we virtually gathered as a whole school to spend time in prayer as we reflected upon the different components of the Easter story. After this, all classes and oratories watched the video reenactments of Palm Sunday, Holy Thursday, Good Friday and The Story of Easter before completing an activity to solidify their learning.
Molly Jefferys
Coordinator - Religious Education
Published on: 12 May 2022
Two Wells - Northern Plains Female Football Superstars
Last month, Two Wells Campus students Lily, Sommer, Mackenzie, and Shaylee played in the Northern Plains Female Football Competition U14 finals in Mintaro. They won their final game to finish third overall. Fantastic effort!
Published on: 12 May 2022
Community Noticeboard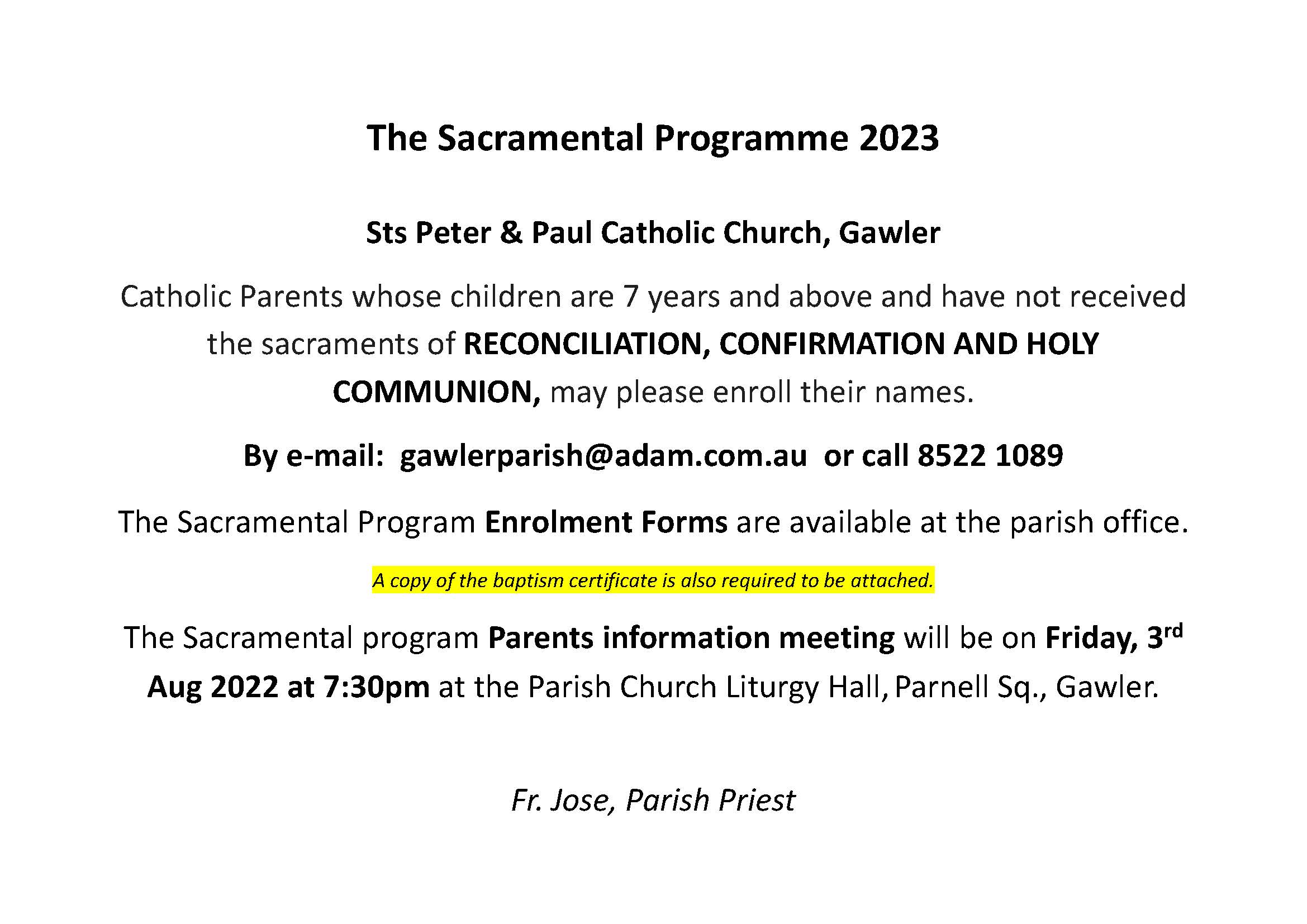 Published on: 12 May 2022