Xavier College Newsletter - Term 1 Week 6
Principal's Welcome
College Board Annual General Meeting
The College Annual General Meeting will be held on Tuesday, 22 March 2022. We warmly invite all Parents/Caregivers to attend. Due to COVID restrictions, the meeting will be held via Microsoft Teams. If you would like to attend the AGM, please RSVP to Carolyn Pape via email cpape@xavier.catholic.edu.au by Tuesday, 15 March 2022. A link to join the meeting will then be forwarded to those attending just prior to the meeting date.
If you are interested in joining the College Board, please forward a one page expression of interest to Carolyn Pape by Tuesday, 15 March 2022, indicating your area of expertise and what you can bring to the College Board.
The format for the evening will be as follows:
7.00pm commencement
Report from the Chair
Report from the Finance Committee Chair
Report from the Principal
Elections
General Business
Mark Flaherty
Principal
Published on: 08 Mar 2022
Lent and Project Compassion
Last Wednesday, members of the College community acknowledged the beginning of Lent by attending a short prayer service in oratory or class. Lent is a time of preparation for Easter. During this time, we are asked to focus on changing our lives through prayer, penance and almsgiving (helping others in need).
The central 'almsgiving' focus for the College is supporting the work of Caritas Australia by fundraising for their annual Project Compassion appeal. While the national appeal runs throughout the Lenten Season, we will run a more concentrated campaign, which will begin in Week 8 and end on Holy Thursday in Week 11. Families will be able to make donations through Oratories (Gawler Belt Campus) and classes and Oratories (Two Wells Campus).
Project Compassion brings thousands of Australians together with the world's poor and needy to help break the cycle of poverty, promote justice and uphold human dignity. The campaign strives to raise awareness and stand in solidarity with the millions of people worldwide that Caritas helps. This year's theme is For All Future Generations – together, we can make a difference now, and For All Future Generations. If families would like to find out more about the work of Caritas Australia and Project Compassion, please visit their website: https://www.caritas.org.au/project-compassion/.
Please assist Xavier College in our ongoing commitment to supporting Caritas Australia's work by contributing to our Project Compassion activity during this season of Lent, starting in Week 8.
Gareth Watson
Assistant Principal Religious Identity and Mission
Published on: 09 Mar 2022
A Reflection on Fasting
Do you want to fast this Lent?
In the words of Pope Francis
Fast from hurting words and say kind words.
Fast from sadness and be filled with gratitude.
Fast from anger and be filled with patience.
Fast from pessimism and be filled with hope.
Fast from worries and have trust in God.
Fast from complaints and contemplate simplicity.
Fast from pressures and be prayerful.
Fast from bitterness and fill your hearts with joy.
Fast from selfishness and be compassionate to others.
Fast from grudges and be reconciled.
Fast from words and be silent so you can listen.
Father Chris Ford
College Chaplain
Published on: 09 Mar 2022
Xavier College Instrumental Music Program
The Instrumental Music Program provides the opportunity for students to learn to play a musical instrument/voice with an experienced tutor.
Lessons
Instrumental and/or vocal lessons take place once a week during school hours and are half an hour in length. Lessons are on a rotating timetable unless negotiated with the tutor and Head of Music. Priority regarding permanent instrumental time slots, such as lunch times, are given to senior students due to their study commitments. Longer lessons can be negotiated with the tutor.
Hire of Instruments
Xavier College can hire instruments for students' private use, particularly Brass and Woodwind.
All year 7 students are given the opportunity to learn a concert band instrument during their classroom music lessons and are encouraged to continue if they enjoy the experience. Year 7 students who decide to continue with private individual lessons can continue to hire their concert band instrument from Xavier College free of charge for the duration of their lessons at the College.
Tuition Available
At Gawler Belt Campus we have instrumental tutors for saxophone, clarinet, trumpet, trombone, flute, piano, voice, guitar, bass guitar, ukulele, violin, and drums. Two Wells Campus is currently offering lessons for piano and guitar.
Tuition Fees
The cost of individual instrumental or vocal lessons is at the discretion of the instrumental tutor, however, will be approximately $280-$300 per term, consisting of 10 lessons. This fee is payable directly to the tutor at the beginning of each term.
Further Information
The Instrumental Music Handbook and Agreement forms can be collected from the Music Department or the Front Office of the Gawler Belt and Two Wells Campuses. If you would like more information about instrumental music lessons for your child, or you would like to book lessons for your child, please contact either:
Leanne Savill - Gawler Belt Campus: lsavill@xavier.catholic.edu.au
or
Ben Paparella - Two Wells Campus: bpaparella@xavier.catholic.edu.au
Leanne Savill
Coordinator - Music
Published on: 08 Mar 2022
Enrolment Application Closure Date May 31 2022
Evanston Campus - Opening 2023
We are excited to announce the opening of our third Campus in Evanston, accommodating Reception to Year 6 students. We are now taking Applications for Enrolment commencing in 2023 and beyond.
Two Wells Campus
Applications for Enrolment for Reception - Year 9 are still open for 2023 and will close soon for 2024.
Gawler Belt Campus
With an overwhelming number of Applications in 2021 we strongly urge families to submit their child's Application for Enrolment Form for 2024 if your child is currently in Year 5.
All Applications close for 2024 Enrolments on 31 May 2022.
If you have additional children you intend to enrol at the College for Year 7 in the future, we recommend submitting these Applications at the same time.
If you require further Application for Enrolment Forms or if you have any questions, please do not hesitate to contact the College Registrar, Victoria via email registrar@xavier.catholic.edu.au
Victoria Hall
College Registrar
Published on: 08 Mar 2022
School Fee Statements
All 2022 Fee Statements have been posted out to families. If you have not received your school fee statement please contact Kristin Jacoby, College Accounts Manager at finance@xavier.catholic.edu.au.
Statements were sent out two weeks later than normal. We have extended the early bird discount date to the 18 March in line with this delay.
If you pay your school fees using the BPAY function, and have a payment that is automatically set up, can you please check that the BPAY ID reads 299065 as the old biller code (46698) will cease to exist as of the end of March, 2022. Please note that payments will reject if details are not updated by this date.
Kristin Jacoby
College Accounts Manager
Published on: 08 Mar 2022
Winter Uniform - Term 2
From the start of Term 2, students must wear full Winter uniform. If you need to purchase the Winter uniform, please visit the Uniform Shop at the times below during school terms:
Monday: 2:30pm to 4pm
Wednesday: 8am to 8:45am
Thursday: 2:30pm to 4pm
The Uniform Shop will also be open during the school holidays on the following dates:
Thursday, April 28: 1pm to 5pm
Friday, April 29: 9am to 1pm
Published on: 08 Mar 2022
Gawler Belt - Head of Campus
Enhancing Student Wellbeing
A key initiative of Catholic Education in South Australia is to create caring and dynamic learning environments in which students can develop skills which will enable them to be a thriving person, capable learner and leader for the world God desires. As part of this process schools across the State, including Xavier College, fully embrace a data informed approach to education. Our College uses a number of data collection tools and digital platforms which provide our teachers and the members of the College Leadership Team with up to the minute data and comprehensive reports which are then analysed, reviewed and used to inform our practice.
In Week 6 of each term we conduct a 'Classroom Pulse Check In' survey across each of our Year Levels. This 'Check In' has been designed and developed to find out how students are feeling about their experience in relation to being part of the Xavier Community. As a Catholic College in the Salesian Tradition we believe that every student matters absolutely and that their relationships, identity, belonging, and learning are essential to their success as a students and in their future endeavours as they transition into their adult life. In the coming weeks our Oratory Teachers and Directors of Pastoral Care will be reviewing the data from the surveys that were administered across the College this morning.
Striving for Teacher Excellence
Teachers across Australia have the opportunity to advance their skills and further their career opportunities by engaging in a process which they can achieve what is called a Highly Accomplished or Lead Teacher Certification that is Nationally recognised. The recognition and certification of excellence aims to encourage teachers to engage in a process aimed at developing ongoing, collaborative learning professionals who strive to reflect upon and improve their practice. The process also provides opportunities for the Highly Accomplished or Lead teacher to show their impact on others ultimately improving the overall standard of teaching and learning in a school.
Last year both Janet Coomber, the Head of Campus at Two Wells and myself completed the course which allows us to lead nominated teachers through the certification process and assess teachers from within the Catholic sector. On the completion of the course we have invited teachers at Xavier College to nominate to undertake this process of becoming a Highly Accomplished or Lead Teacher. I am delighted to announce that Mr Chris Bateman who is currently in the role of Director of Teaching and Learning for Occhiena House here at Gawler Belt is now on his pathway to be the first staff member to be certified as a Lead Teacher. I am excited to be working with Chris as he engages in this two-year journey and look forward to the significant positive impact Chris will have in the teaching and learning space here at Xavier College under our multi campus model.
John Cameron
Head of Campus - Gawler Belt
Published on: 08 Mar 2022
Gawler Belt - Music News
The Gawler Fringe was a fantastic opportunity for some of our music students to perform in their ensembles. Jess Hall and Bethany Johnson performed a set of acoustic ballads to an enthusiastic audience.
Layne Bailey performed with a local band called the Moo Crew, made up of many Xavier College Old Scholars. They performed some crowd favorites and some technically demanding music such as 'Carry On Wayward Son' by Kansas.
Our Year 7 Concert Band program has well and truly begun, and our students have been having a great time learning some different instruments with Mr Lindner including saxophone, trumpet, trombone, clarinet and flute. They have been learning some notes on their new instruments and have also been playing together in a band setting.
Published on: 08 Mar 2022
Gawler Belt - Peer Support
During Term 1, all Year 7 students will be involved in the Peer Support Program. House Directors of Pastoral Care will facilitate the 'Strengthening our Connections' module written by Peer Support Australia. This program provides successful Year 10 student applicants the opportunity to develop practical leadership skills with our Year 7 students and demonstrate the College values of RUAH in action. Each week, students will meet with two Peer Leaders and work through several activities that focus on building connections and addressing a range of behaviours including the prevention of bullying. Meeting in small groups of ten allows meaningful connections to form, assisting students with the transition to secondary school. Over the eight sessions, students will acknowledge their strengths and learn skills to build resilience, identify how to develop, maintain, and repair friendships, and develop understanding of a range of behaviours including bullying, learning strategies to respond appropriately in a variety of situations.
Published on: 10 Mar 2022
Gawler Belt - 2022 Pedal Prix Season
The 2022 Pedal Prix season has commenced! We had our first training on Tuesday afternoon, with a mix of enthusiastic new riders, and helpful experienced riders. We are looking forward to competing in four events this year (Covid willing!). We train each Tuesday and Thursday afternoon at school, rain, hail or shine, from 3:05pm til 4:30pm. Members can choose to train either once or twice a week and are asked to please supply their own bike helmet, water bottle and hat. As we progress, we will require support from Parents/Caregivers in many roles. Students are welcome to come out and try the sport. If they would like more information, they can see Mr Welsh or Mrs Bakker in the Hub. If Parents/Caregivers would like more information, please contact Jo Bakker: jbakker@xavier.catholic.edu.au
Jo Bakker
Coordinator - Inclusive Education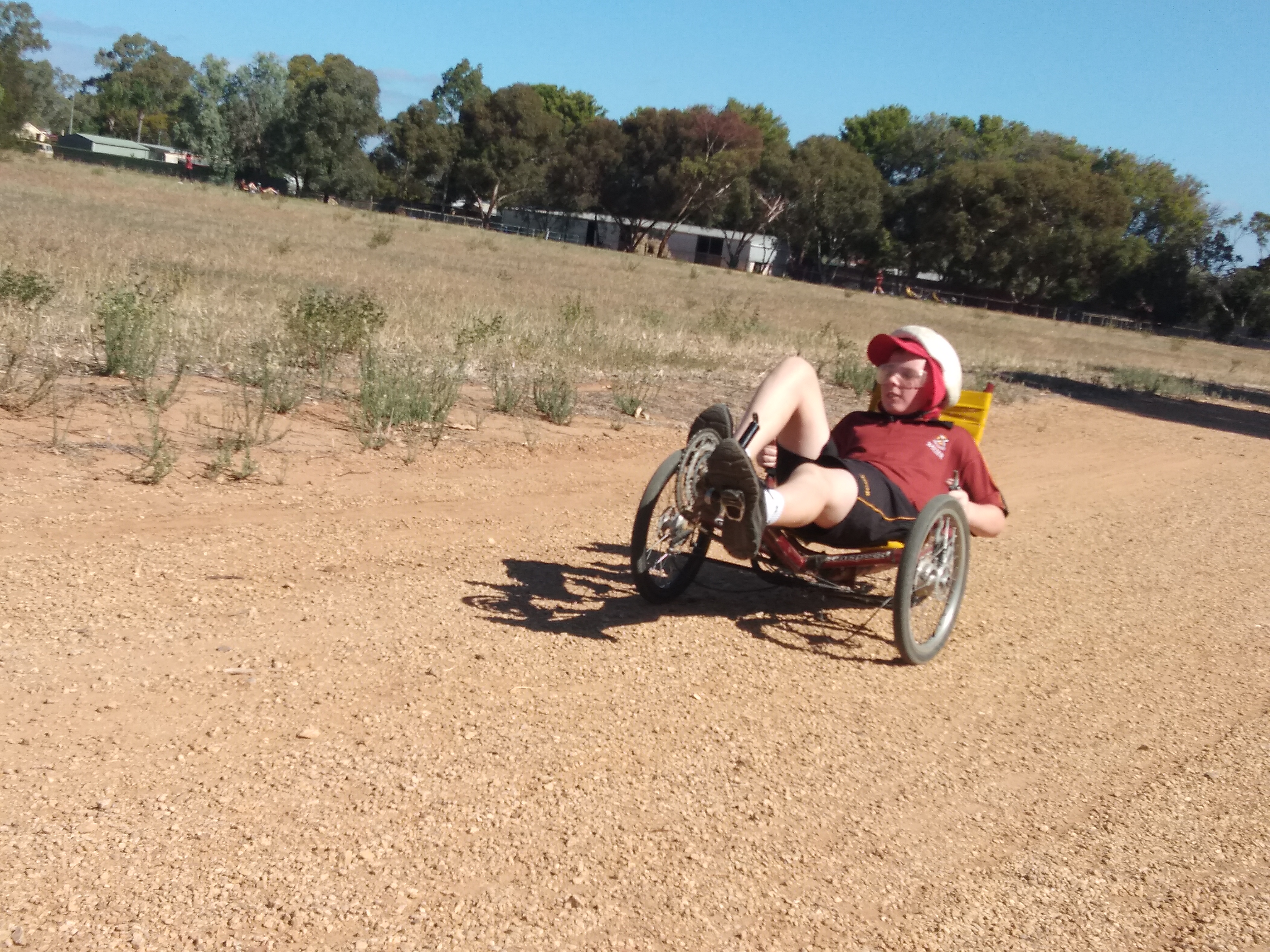 Published on: 09 Mar 2022
Two Wells - Head of Campus
The last few weeks have been wonderful at the Two Wells Campus. Although there have been inevitable and expected interruptions to our every day lives, the cheerful disposition and resilience of our community has been amazing.
The steel for Stage 2 of construction is coming along well, with lots of cranes and activity on site. The new soccer pitch is looking green and lush, and we were very excited to finally open this area to students. Access to the pitch will be via the new swale bridges, which are also very exciting.
We welcome Ms Emily Woodford as she commences a short teaching stint for us while Mr Nick Skewes takes some leave. We also welcome Ms Elizabeth Azzuro, and Will and Dan Johnson who join our OSHC team.
Our students recently participated in Ash Wednesday services. This signifies the beginning of Lent, which is traditionally a time when people are asked to give something up. As a community, we also encourage students to think about something they can do for others, or a way to contribute. This can be reflected in our actions, words and treatment of each other.
Shortly families will receive communication for interviews with both class teachers and subject teachers. Bookings for these meetings will be made online, and will take place either via Teams or over the phone. I encourage Parents/Caregivers to continue to use SEQTA as a means of communication with teachers, and gain an overall view of your child's learning. Please do not hesitate to contact us if you require support with this.
Janet Coomber
Head of Campus - Two Wells
Published on: 08 Mar 2022
Two Wells - Ash Wednesday
Students in Miss Jefferys' Reception class participated in their first official 'Prayer Service' to celebrate Ash Wednesday. In class they have been learning about Prayer, Lent, and the Liturgical Calendar of the Church. Prior to the Prayer Service students drew a picture of something they wanted to 'take up for Lent.' Some said, "being kind" others said, "donating old toys." During today's Prayer Service, students placed their Lent promises in a basket. Students then created their own Lenten crosses.
Molly Jeffereys
Coordinator - Religious Education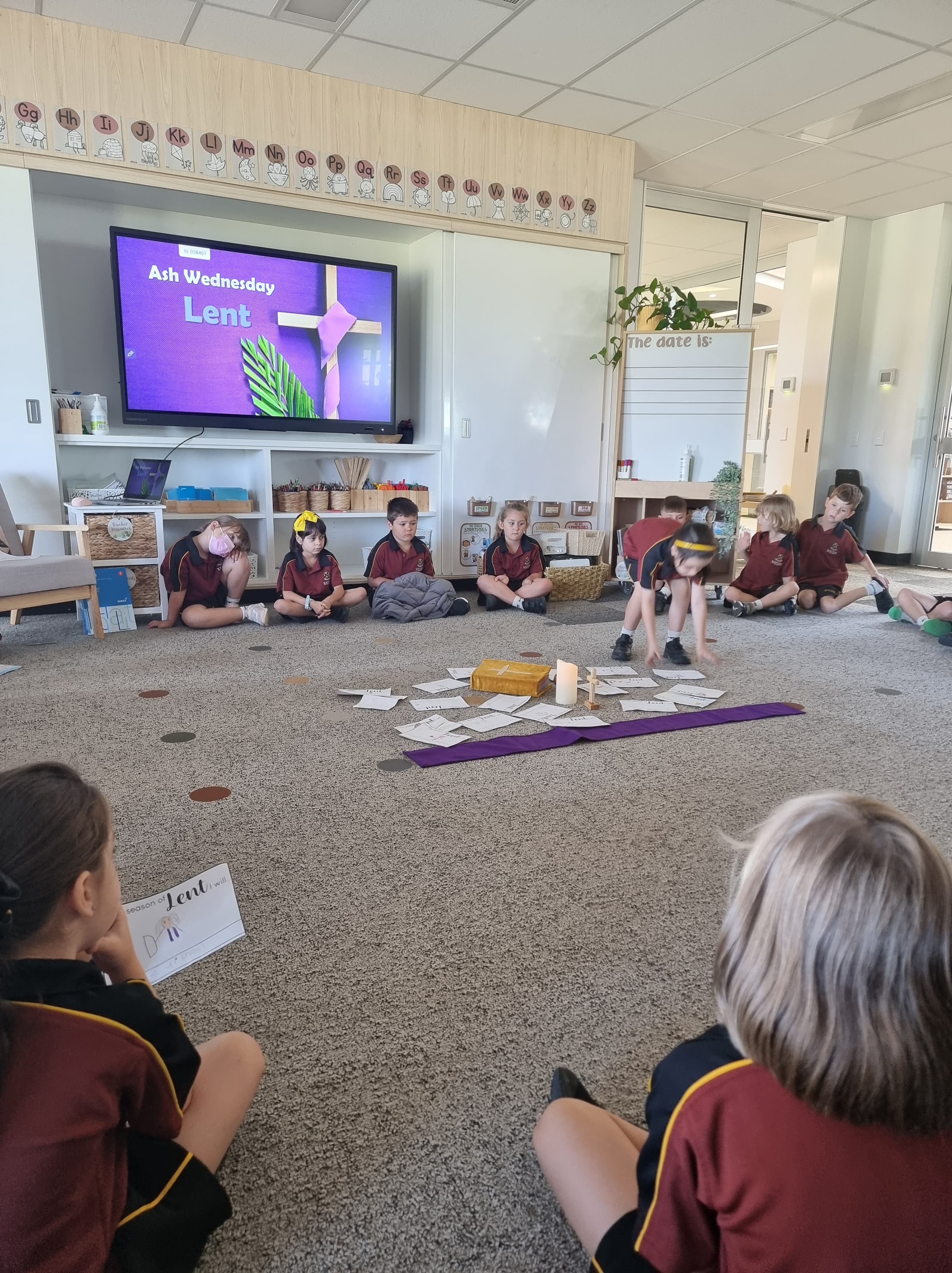 Published on: 08 Mar 2022
Community Noticeboard
Published on: 08 Mar 2022