Xavier College Newsletter - Term 4 Week 6
Principal Welcome
Dear Parents
You may have seen in the media the recent SA Government Direction concerning COVID-19 vaccinations for staff in schools and Early Childhood Education Care settings.
This school has acted quickly to inform our staff of these new requirements. It has been our previous position that for the safety of students and the community, those who are eligible, ought to be vaccinated where possible.
The SA Government Direction now specifies that staff in all schools and education and care settings must have had at least one dose of a COVID-19 vaccination by 10 December 2021 and show evidence of a booking for their second dose.
The Direction also extends to volunteers (including Board members) and any unpaid workers.
It does not apply to students and parents who are incidental visitors to the school.
You would appreciate that the 2-year journey we have experienced in dealing with the pandemic has resulted in numerous strategies and compliance measures implemented for the safety of students, families and staff.
Throughout the pandemic we have been absolutely lock-step in following the advice of the SA Chief Public Health Officer as it relates to the schooling sector. The Catholic Education Office has strong direct liaison with the SA Department for Education which has meant that each sector has been remarkably consistent in the messaging over health measures adopted at school sites.
We will continue to monitor and act upon any relevant advice and make staff aware of this new government law.
If more information comes to hand that has an impact on the wider school community, I will keep you informed.
If you are volunteering in our community, I ask that you contact Carolyn Pape via email hr@xavier.catholic.edu.au to find out how you might supply the necessary information to be compliant with this Government Direction.
Mark Flaherty
Principal
Published on: 11 Nov 2021
Final Day - Reception to Year 12 Students
Published on: 23 Nov 2020
Ambulance Cover
The College has Ambulance cover for school-related incidents only. Students with pre-existing conditions, eg Asthma, Anaphylaxis, Epilepsy, Seizures, are advised that in the event of an attack, individual Management Plans will be followed and Ambulance attendance requested, if necessary. These incidents are not covered by the College's Ambulance cover; therefore families will be liable for any costs incurred. Please provide your Ambulance cover details on your child's medical information. If you have any queries, please contact the Front Office.
Published on: 11 Nov 2021
Two Wells - Junior School
The term rolls on with many exciting events happening, as well as wonderful teaching and learning.
Of particular note has been the amazing progress made by our students in literacy and numeracy. Our data has shown outstanding growth with reading, comprehension and maths; I acknowledge and congratulate not only the students themselves, but also the incredible work of our teaching and support staff.
We recently held information sessions for new families who will be attending the Two Wells campus in 2022. For our current families, the biggest change will be our Year 6 and 7 students moving to our Middle School environment. Year 6's will be involved in regular morning Oratory sessions, and our Year 7's will be required to purchase and bring their own device. You are able to access recommendations about devices on our website, but please note we do not use Apple laptops / Macbooks, as they are not supported. We require students to have a Windows based device.
Our students have been involved in other events this term, including athletics carnivals, Book Fair, Remembrance Day, the opening of Freedom Park in the Liberty estate, STEM sessions run by the Port Power Football Club, and the Music is Fun incursion.
Our early academic changeover is also an exciting time, with our new students getting to experience their next year level and meeting teachers. In addition to this, families coming into the campus will notice that we have now lost our grassed area. While this is inconvenient, it is unavoidable and I am grateful that it will only affect the final weeks of term. We look forward to our wonderful new soccer pitch in 2022!
As always, I take this opportunity to thank our community for their support. While this year's Covid restrictions has meant that we have not been in a position to have families in for some events as we had hoped, I encourage you to check in on the Xavier College Two Wells Facebook page as a way of being as connected.
Janet Coomber
Head of Campus - Two Wells
Published on: 11 Nov 2021
New students 2022 Orientation Day - Two Wells
Published on: 23 Nov 2020
Two Wells - SACPSSA Interschool Athletics Carnival
On Wednesday the 3rd of November, selected students from Year 3 to 6 travelled to SANTOS stadium to participate in a SACPSSA interschool athletics carnival. The day was a great opportunity for students to represent the College and compete in a variety of track and field events. Many students were successful in receiving place ribbons and in particular the Year 3 girls, Year 6 girls and overall girls were able to win their sections. Toby (Year 4) thought the event was great fun and acknowledged that although it was hard, he looks forward to trying again next year. Charli (Year 5) also recognised that the event was fun and identified the relay as a highlight because students were able to work as a team. We look forward to participating in the event next year!
Nathan Clarke
Primary 3 – 5 Coordinator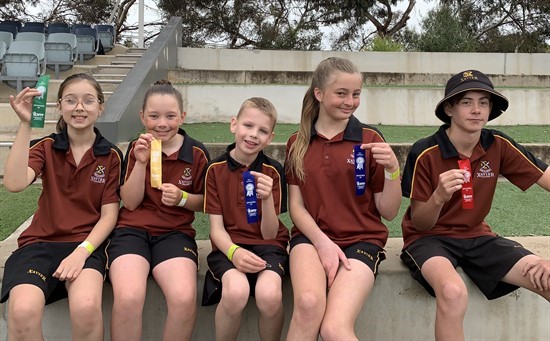 Prev
Showing images
1 - 8
of 26
Next
Published on: 11 Nov 2021
Two Wells - PAFC Community Youth Program
Over the last couple of weeks, students from years 4, 5 and 6 have engaged with the Port Adelaide Football Club's Community Youth Program. Some representatives from the club came and taught students about the importance of living a healthy lifestyle. They also, ran a number of STEM activities which tested student's reaction time and heart rate. Students thoroughly enjoyed interacting with these activities and Charlotte (Year 6) said 'It was fun, and I liked it because we learnt about health, and we tried activities that allowed us to be competitive'. We look forward to participating in this program again in the future.
Nathan Clarke
Primary 3 – 5 Coordinator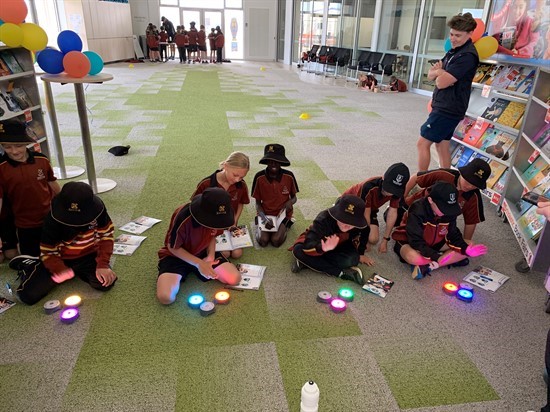 Published on: 11 Nov 2021
Two Wells - Book Fair
During Week 5 we held our very first Scholastic Book Fair. The theme was "Reading Oasis: A cool place to discover hot books!" Reading for pleasure unlocks the power of information and imagination and helps children discover their passions.
With the wonderful support of Xavier College student volunteers, the Breakout space was decorated with an Egyptian theme.
During Library lessons and lunchtime activities students had a fantastic time solving the themed Egyptian events. $10 Book Club Vouchers were present to the following winners:
Book Review winner - Lily Year 5
Colouring in competition winners

Reception/Year 1 - Charlie Year 1
Year 2/3 - Henry Year 2
Year 4/5 and 6 - Riley Year 4

Scavenger Hunt winner - Ava Year 1
Crack the Egyptian Code winner – Reach Year 6
How many pages in the book winner – Shania Year 5
I would like to thank our wonderful community members for your support.
Tammy Haythorpe
Student Hub Technician

Published on: 18 Nov 2021
Two Wells - Remembrance Day
On Thursday November 11th, Remembrance Day, Mr Pinchbeck and Mrs Furst accompanied Charlotte (Y6), Zac (Y6), Lilly (Y5), Ashlyn (Y4) and Sophie (Y2) to the Two Wells RSL Remembrance Day Service where they laid a wreath on behalf of the school. We were very proud of the way the students conducted themselves and the respect they showed on this special occasion.
Mr Pinchbeck and Mrs Furst
Prev
Showing images
1 - 8
of 18
Next
Published on: 11 Nov 2021
Gawler Belt - Senior School
As the 2021 Academic Year draws to a close the College held a farewell morning tea for the students who will be transitioning to St Patrick's Technical College and commencing their trade pathway courses at the start of 2022. Xavier College has a long standing tradition of working in close partnership with St Patrick's in order to facilitate students successful transition into a variety of industry ready training programmes. While this year we have a smaller group of approximately twenty students leaving for St Patrick's the partnership between our two Colleges is exceptionally strong and one that is fully focussed on providing the very best future career opportunities for our students. The courses in which the students are enrolled vary from electrotechnology, plumbing and building construction through to hair and beauty. A number of our Xavier students have not only performed extremely well in their elected trade related subjects at St Patrick's, they have also been nominated and elected by the staff and their peers to take up leadership roles at St Patrick's including College Captains. The College would like to take this opportunity to wish the students who will be transitioning to St Patrick's all the very best for their futures.
John Cameron
Head of Campus
Published on: 11 Nov 2021
Respectful Language
In today's world, it is common to hear socially offensive language on the streets, on social media channels, streaming services and in some forms of modern music. While swearing is becoming more common and less taboo, the use of derogatory language or the act of swearing at someone, or about someone, is a form of verbal violence. It transgresses the usual rules of social interaction by impinging on an individual's self-image and sense of dignity.

It is becoming apparent that some young people are being influenced by the language they hear. Proliferating the use of swear words can sometimes normalise, glamorise and desensitise their impact for kids who may misunderstand the true meaning of some derogatory terms. Whilst some students may use swearing or derogatory terms as a misguided attempt at belonging, others may use it simply because they are still learning how to moderate their language and are not accustomed to making adjustments to suit different situations.
Although many schools enforce a zero-tolerance policy when it comes to swearing and derogatory language, parents need to also play an important part in enforcing this approach. Parents and carers can be proactive in monitoring what their children are viewing or being exposed to. Discussing the use of words or the origin of some derogatory terms and gaining insight into the reason behind their child's use of such language can help prevent inappropriate or disrespectful language filtering into the classroom or the school yard, which in turn helps to build more tolerant, safe and connected communities.
This Special Report offers a number of guidelines to help manage a suitable approach when discussing the importance of respectful language. We hope you take a moment to reflect on the information offered, and as always, we welcome your feedback. If this raises any concerns for you, a loved one or the wellbeing of your child, please seek medical or professional help.

Here is the link to your special report:
https://xavier.catholic.schooltv.me/wellbeing_news/special-report-respectful-language
John Cameron
Head of Campus
Published on: 18 Nov 2021
Gawler Belt - Year 7 Parent Information night - 2022
24 Nov 2021
6:30 PM to 7:30 PM
Published on: 23 Nov 2020
Gawler Belt - Year 9 Camp
A week of challenges for our Year 9s was held in Mylor as our young people made their way through all the obstacles they were provided with to assist their transition to Senior School beginning Week 6.
Occhiena and de Sales began their week as the first group to head to camp Monday to Wednesday, followed by Mazzarello and Handley Wednesday to Friday. The students participated in activities such as high ropes, low ropes, challenge course (the famous mud crawl), bridge building, and archery. On the first evening we held a quiz night, and then on the second evening the students participated in a liturgy followed by a viewing of all the photos taken during their stay.
Although the weather was not entirely nice to us on Thursday, the Year 9s carried on regardless – accepting the challenge of the rain and digging deep to show real indomitable spirit.
Overall – a great camp with a great bunch of young people.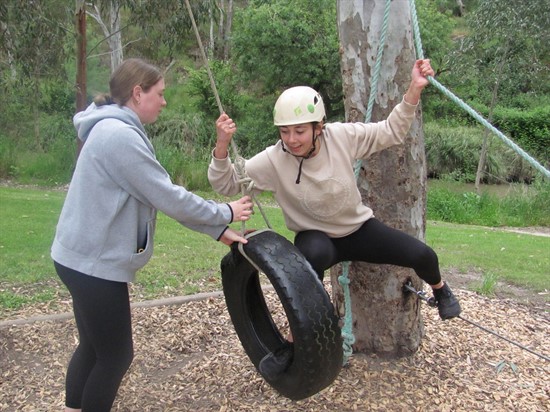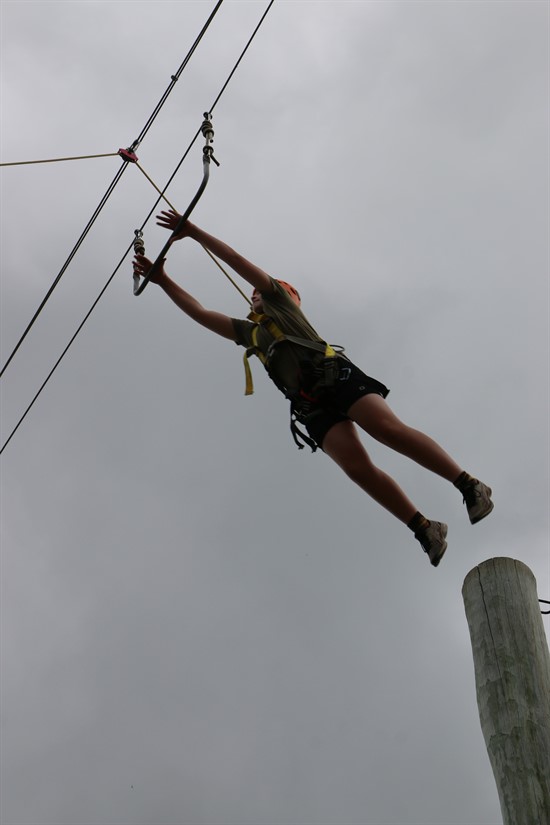 Prev
Showing images
1 - 8
of 23
Next
Published on: 18 Nov 2021
Gawler Belt - Year 9 Camp - Student Reflections
I had a wonderful time on camp spending time with people I don't always talk to in school in our groups. Doing the activities created new bonds between me and my team members. Doing the giant swing was the most exciting part of camp for me as I am very scared of heights and still did it twice.
Baylee Larner – SGKE
I enjoyed being able to interact with people that I hadn't before, the camp groups were a perfect opportunity to do so. Spending majority of the time in a group helped me to develop new positive relationships with peers and teachers. I was able to work on leadership, teamwork, and problem-solving skills that would be beneficial for my personal development.
Ebony Lewis – SNSM
When going to this camp I was mainly excited but also a little bit nervous and unsure, but I really enjoyed that feeling. During the camp / activities I really tried to push myself and also work as much as I can on my teamwork. I also came into each activity with the mindset of if I don't do this, I will regret it later. One thing that I had to really push myself for was the Liturgy as I do not like to speak in front of people at all but I just felt like this camp was the right camp to push myself in every aspect. The staff were really nice and encouraging and really hyped up the activities. In addition, the food was really delicious and filled me up each time. The thing that really made this camp so special though, were the teachers that came, they were so nice and put in there all for the camp, overall I would highly recommend this camp to everyone as every part of it is amazing.
Connor Cloak - OMLA
The first day of year nine camp was really, really fun the low ropes gave me a little challenge and some ropes were too far to grab or they were had to keep your balance in them, the next activity was the challenge course which was absolutely one of my favourite courses this week it was fun to be able to get involved in my team to be able to communicate with people that I haven't talked to in a while. Camp was so fun and would definitely go again!
Tilli James - OJPE
Published on: 18 Nov 2021
Gawler Belt - Hospitality
In Year 10 Hospitality, classes learnt about the prevalence and impacts of homelessness in Australia and our local community. As part of their final task, students investigated the importance of nutrition and then planned and cooked meals to be donated to our local Fred's Van. We were very proud to be able to donate large quantity, high quality, nutritious food to those in need.
Brenna Wood
Curriculum Leader HPE
Prev
Showing images
1 - 8
of 10
Next
Published on: 11 Nov 2021
Gawler Belt - Physical Education
In Year 10 Elective Physical Education we have been researching and building knowledge about Australia's decreasing sport participation, barriers experienced by teenagers and how to engage younger students in PE lessons. This has contributed to us creating fun and engaging lessons that all Year 7's look forward to participating in. I have enjoyed being able to bond and strengthen connections with our younger peers.
Keeley – Year 10
Brenna Wood
Curriculum Leader HPE
Published on: 11 Nov 2021
Gawler Belt - Senior Music Excursion
On Tuesday November 9th, the Year 10 and 11 Music students went to the Opera! This was State Opera's final dress rehearsal of The Barber of Seville, opened up specifically to schools on this day to encourage young people to see the Opera. It was presented by State Opera South Australia, and was a Co-Production between Opera Queensland, Seattle Opera and New Zealand Opera. We were fortunate enough to sit at the very front and get up close and personal with the action and the Adelaide Symphony Orchestra.
The Barber of Seville is described by State Opera as 'A giddy romp along the path to true love, by way of serenades, ridiculous disguises, and trickery'. This performance had been given a modern day make over and this proved to be very entertaining for our students. There were some modern day jokes thrown in to keep things light, as well as extraordinary costumes and some incredible talent on display. It was all sung in Italian, giving us a true Opera experience.
We shared some dinner before hand and lots of laughs during the show. It was great to see our students enjoying something new and out of their comfort zone. It was a real delight!
Leanne Savill
Coordinator - Music
Published on: 11 Nov 2021
Peer Support Leaders Program
A peer support leaders training program will be run in week 7 with all Year 10 students. At the conclusion of this training, students will be invited to apply to be a Peer Support Leader to run an 8 week program with Year 7 students in 2022. For more information ….
Published on: 18 Nov 2021
Community Noticeboard
Published on: 11 Nov 2021