Xavier College Newsletter - Term 4 Week 3
Principal Welcome
For our graduating class of 2021, this week has been a collection of a series of events: Oratory farewells, fancy dress day, their final assembly, morning tea with staff and their Graduation Ceremony. In their own way, each of these experiences has been and is an expression of our very best wishes for them, as they prepare to leave our community and begin the post-secondary school stage of your life journey.
I congratulate:
All students that have completed Year 12 at Xavier College;
The Senior House Leaders and thank them for the work they have done for their peers and the College. As House Captains, Academic, Christian Citizenship and Sporting Leaders they have all impacted on the students in their respective Houses;
Luca Harper and Keeley Menadue, for their leadership as College Captains this year. During a very difficult year they have both shown outstanding care for all members of our community and I thank them both for your outstanding leadership;
Dux and Effort Award winners;
St John Bosco Medal and Xavier medal winners. (see bleow)
I pay tribute to all those who have supported our senior students during their time at Xavier College; their families, teachers and other staff members that have supported them on the way, I congratulate and thank them for the way in which they have supported these students through their secondary education.
I thank Parents and caregivers for supporting the College
Firstly for sending your sons/daughters to Xavier
For attending Oratory, Parent Teacher and information nights
And for speaking highly of the College in our community.
At the final Year 12 assembly I left students with the importance of Work Ethic, Treating people with kindness, Showing gratitude and having a passion for everything you do in life.
At the Year 12 Graduation Ceremony I left parents with the challenge to continue to support our young people as they enter an ever changing world.
I wish all Year students the best over the exam period and I look forward to catching up with everybody at the Graduation dinner.
Year 12 Final Assembly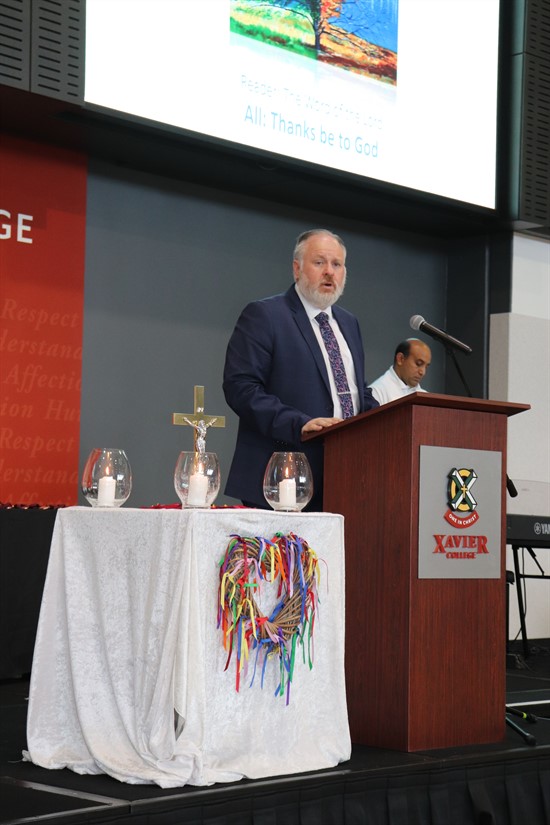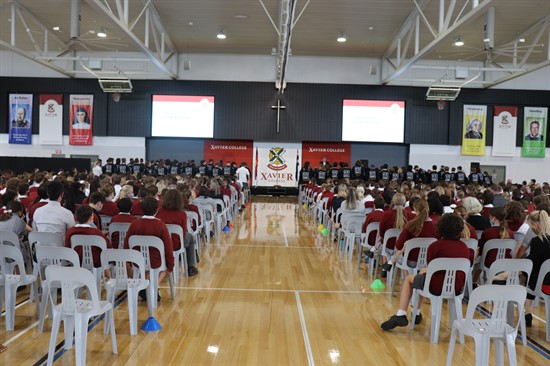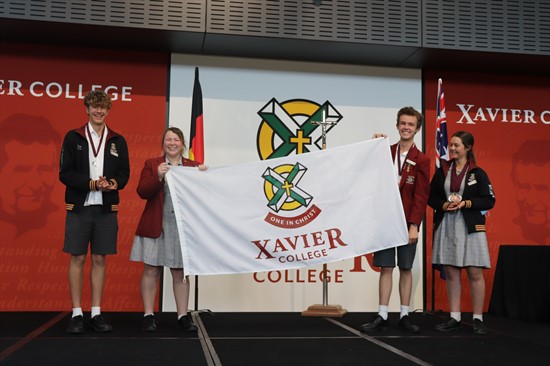 Prev
Showing images
1 - 8
of 30
Next
Year 12 Graduation Ceremony
Year 12 Dress up Day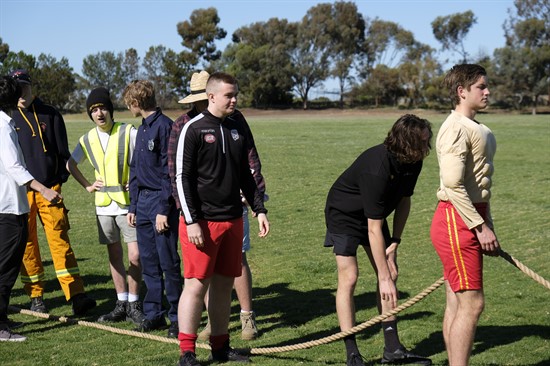 Prev
Showing images
1 - 8
of 19
Next
Published on: 22 Oct 2021
Graduating class of 2011, 10 year College reunion - 5 November 2021
There will be a 10 year school reunion for the graduating class of 2011 on the 5th November at 6pm at the Exchange Hotel Gawler.
$10 pp to cover the cost of the venue.
We are asking for people to please respond ASAP on the FB event page or via email tisstegan@gmail.com or luke.edwards871@schools.sa.edu.au.
Published on: 26 Oct 2021
Ambulance Cover
The College has Ambulance cover for school-related incidents only. Students with pre-existing conditions, eg Asthma, Anaphylaxis, Epilepsy, Seizures, are advised
that in the event of an attack, individual Management Plans will be followed and Ambulance attendance requested, if necessary. These incidences are not covered by the College's Ambulance cover; therefore families will be liable for any costs incurred. Please provide your Ambulance cover details on your child's medical information. If you have any queries, please contact the Front Office.
Published on: 27 Oct 2021
Gymkhana - Clare
Ten students represented Xavier College at the Clare Interschool Gymkhana on October 22nd, supported by an enthusiastic contingent of hard working parents and friends. Pypah Coombe, Nyah Clark, Sophia and Blake Bush from Two Wells and Sharni Heerebout, Scarlett Knight, Ellie Daley, Maddison Weston, Keeley Menadue and Summer de Boer-Tyler presented themselves professionally and turned their horses out to a very high standard to compete in their events.
Xavier was represented in all rings with every rider coming away with many wins and placings. It was impressive to see riders supporting each other and being encouraging and helpful to each other. College Captain, Keeley Menadue was riding for her last time in Interschool equestrian events and had an outstanding day winning the Senior High Point award on Ponderosa First Royal. She supported the youngest of our riders, Pypah Coombes and once again, was an exemplary role model. We will miss her very much, but hope that she can make a guest appearance at our next gymkhana.
Congratulations also to Nyah Clark, who won the Junior High Point Award. She was outstanding all day and scooped the pool on Rivington L'il Red Ferrari, also winning the Supreme Hack of the day. Overall, Xavier College won the School High Point Trophy with a massive 232 points over twenty two other schools. It was an absolute privilege to witness students from Gawler Belt and Two Wells campuses working together and interacting in such a positive way. We look forward to many more opportunities to compete together in future events. I would also like to thank Hayley Reid for coming and taking photos and also to parents for donating photos.
Denise Piggott
House Director Pastoral Care
Prev
Showing images
1 - 8
of 12
Next
Published on: 26 Oct 2021
SAPSASA Girls AFL
On the 18th to 20th of October, we had a number of students across both campuses involved in the SAPSASA Girls AFL championship after being selected to represent the Gawler and District team. The carnival was held at Barrett Reserve, West Beach.
The Gawler Belt Campus had six Year 7 students, Jayla Barrett, Hayley Bint, Ashley Brady, Victoria Munday, Khloe Claxton and Lyla Adair selected to play in the carnival.
While the Two Wells Campus had two Year 6 students selected, Addison Kennewell and Amelia Brown. Over the three days, the team played a total of 9 games and were in Division 3 of the competition. The girls finished equal 2nd overall with a total of 7 wins and 2 losses. All students enjoyed their time at the carnival with a few of their highlights listed below.
Ainslee Knight
Teacher
Published on: 26 Oct 2021
Two Wells - Junior School
Families would have received information about the procedures for Term 4; please contact the Two Wells campus if you require any clarification. This communication provided important information about academic change over, pupil free days, and OSHC.
There are many events to look forward to this term, one of which was our Reception classes first year level excursion! Our Reception students visited the Gorge Wildlife Park, and were excited to not only feed the kangaroos, wallabies and camels, but to pat koalas, see bats leopards, alligators, wombats, meerkats, emus, penguins, reptiles, bats, ostriches, and of course there was the excitement of the bus!
All of our students participated in our first Xavier College Two Wells Xavier Day. This involved selecting from a variety of activities such as Yoga, Soccer, Hama Beading, Cooking, Crafts, and Minecraft. All students participated in a Prayer Service where we were able to give thanks for our wonderful school and community, and enjoyed a Sausage Sizzle.
A group of students participated in the "Hotshots Tennis Carnival", and enjoyed a full day of tennis under the supervision of Mr Guthrie, Mrs Taylor, and Mrs Haythorpe. They played extremely well, and showed great sportsmanship.
Upcoming events also include the opening of Liberty Park, Book Fair, the Power Community Program, Music is Fun incursion, and information nights for 2022.
A drive to the campus will see a hive of activity on site as we prepare for our expansion to include Year 7 and 8. Temporary classrooms are being worked on in preparation for next year, with our exciting new build not far away.
Finally, but most importantly - we would like to offer our congratulations to Mr Paparella and his wonderful partner Emma on the safe arrival of their daughter Ivy Grace. Ivy arrived safely on October 14, with both mother and daughter doing well. We can't wait to meet you Ivy!
Janet Coomber
Head of Campus - Two Wells
Published on: 22 Oct 2021
Two Wells Parent Information night - new students 2022 to the school - 5 and 5.45 sessions – two people per family
11 Nov 2021
5:45 PM to 6:15 PM
Published on: 27 Sep 2021
Two Wells - Reception Gorge Wildlife Park Excursion
On Friday 22nd October the Receptions went on an excursion to the Gorge Wildlife Park. On the excursion we got to feed and pat kangaroos, joeys, wallabys and camels, and we got to pat the very soft Bella and Kyra, the koalas. Students had an amazing day exploring the park and seeing all the amazing animals. In our Religious Education lessons we have been learning about the loving families and the beauty of new life and it was wonderful that we were able to see so many baby animals on our excursion. Here are what some of the receptions had to say about their favourite part of about the excursion;
"Seeing the penguins and all the baby ducklings" - Nahlia
"Feeding and patting the kangaroos" - Kur
"Seeing the camels and the koalas" - Charlee
"Seeing the emus" - Oliver
"Seeing the baby bunnies" - Zanthia
"Patting the koala" - Austin
Danielle Monticelli
Teacher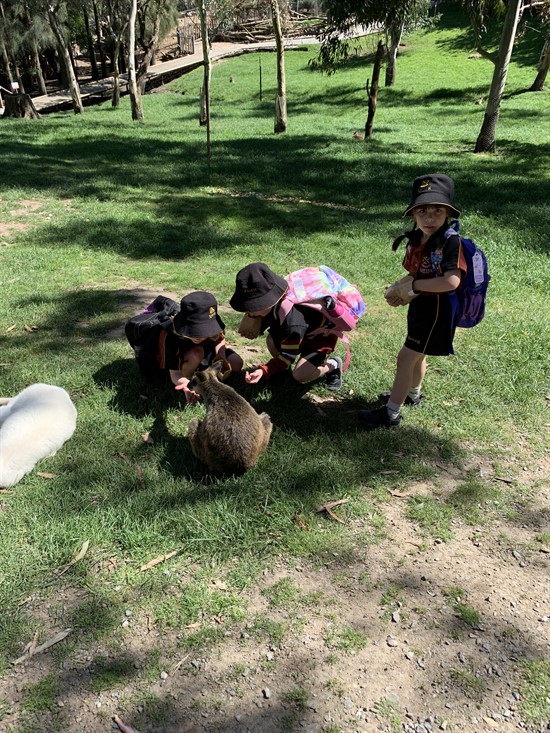 Prev
Showing images
1 - 8
of 48
Next
Published on: 22 Oct 2021
Two Wells - Xavier Day 2021
Prev
Showing images
1 - 8
of 11
Next
Published on: 22 Oct 2021
Two Wells - Book Fair
Published on: 22 Oct 2021
Two Wells - Tennis Hotshots
On Monday the October 18, some Year 3 and 4 students travelled to Playford Tennis Centre to participate in a come and try event for 'Tennis Hotshots'. It was an awesome opportunity for students to experience the game of tennis and practice their skills in a number of games against students from other schools. Nicholas (Year 4) shared that 'the day was fun, and it was great to play tennis with friends'. Tiffani and Payton (Year 3) said that 'the day was really fun, and it was great because everyone showed good sportsmanship'.
Nathan Clarke
Primary 3 – 5 Coordinator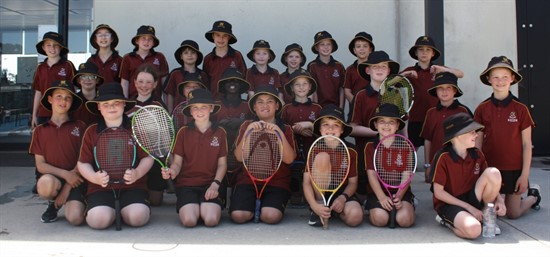 Published on: 22 Oct 2021
Gawler Belt - Senior School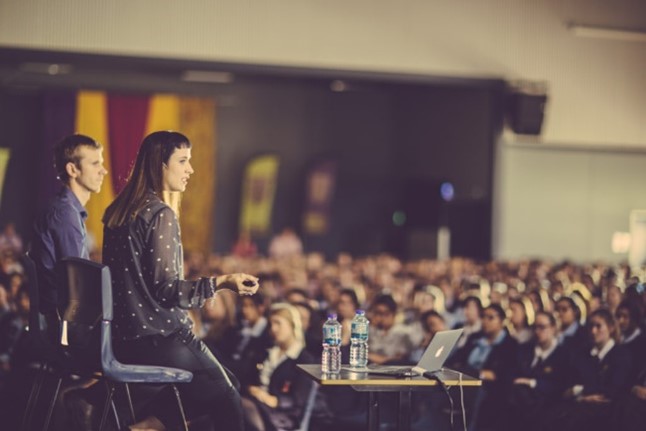 As a College we are delighted to be entrusted by the parents and caregivers with the care of your children over during their time here at the College. As a Catholic College in the Salesian Tradition we are deeply devoted to educating the whole person across all the dimensions of what it is to be truly human.
As part of our endeavour to educate the whole person we value the importance of drawing upon the expertise of key specialists in their fields to present to our students with the view to providing them with the most current up to date information from global studies. This week we had David and Katie Kobler present to our Year 10 students. David and Katie who are the directors of YourChoicez together have an extensive background in youth work and adolescent development and have presented to over 300,000 students in live audiences at schools across Australia. Their two-hour presentation focussed on positive self-image, establishing deeper connections with others in a world in which young people can often be distracted by being immersed in a digital world. During the presentation David and Katie provided the students with a set of tools to assist them with building happy, healthy and safe relationships.
As we move towards reaching the halfway mark of Term 4 we have had a number of significant events which we have been able to celebrate as a community. From Xavier in Concert, the celebrations associated with the Year 12 students concluding their formal studies the Year 8 Barossa Valley Goldfields & Business Excursion, along with the interschool Gymkhana which was held at Clare.
Each of these experiences provide our students with opportunities to connect with their peers, demonstrate their talents and contribute positively to our vibrant learning community.
John Cameron
Head of Campus - Gawler Belt
Published on: 22 Oct 2021
Pupil Free Day - Year 7 to Year 12 Senior School
Published on: 23 Nov 2020
Pupil Free Day - Year 7 to Year 12 Senior School
Published on: 23 Nov 2020
Year 11 Exams
Published on: 23 Nov 2020
Year 9 Camp - (3 days per group)
Published on: 23 Nov 2020
Gawler Belt - Xavier in Concert
On Friday 15 October our Music students participated in our annual Music Showcase – Xavier in Concert. All students performed confidently and should be very proud of their musical achievements. Our Hospitality students prepared some delicious desserts that were enjoyed by all. Congratulations to our Music Captains Isaak Eland and Layne Bailey who compared the evening and to all students and staff who were involved.
Leanne Savill
Coordinator - Music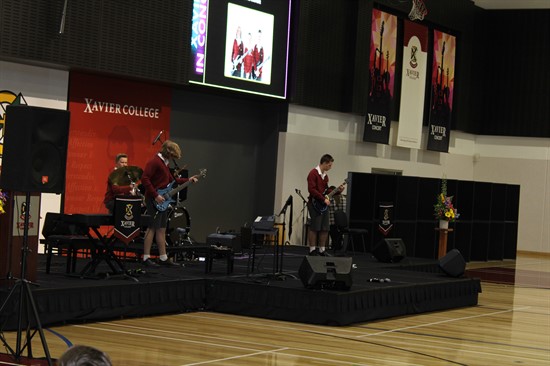 Prev
Showing images
1 - 8
of 28
Next
Published on: 22 Oct 2021
Barolo Appeal
Our annual Barolo Appeal was conducted in last weeks of Term 3. This year we raised over $7,600 to help the Salesians with their overseas missionary work. Each House supports their own Salesian endeavour:
de Sales: Cagliero Project - (providing long term meaningful volunteer placements working with disadvantaged young people in a Salesian setting in places such as Cambodia, Samoa and Zambia)
Handley: Don Bosco Agriculture College - Timor Leste (a co-educational Salesian school catering for 200 students all of whom are boarders)
Mazzarello: Salesian Sisters' Orphanage - Timor Leste (a Salesian orphanage for up to 120 girls aged 4 - 19)
Occhiena: Don Bosco Gumbo - South Sudan (a Salesian centre where thousands of refugees each day seek refuge in a 'safe haven', as the country's civil unrest continues)
I would like to take this opportunity to thank all members of the College community for the level of generosity they have displayed this year, not only in the Barolo appeal, but also the St Vinnie's Winter Appeal and Project Compassion.
Gareth Watson,
Assistant Principal Religous Identity and Mission
Prev
Showing images
1 - 8
of 28
Next
Published on: 22 Oct 2021
Gawler Belt - Planetarium Excursion
On Friday October 22 we had a great day out with selected PPL students from Year 7 to 10. We used LinkSA and public transport to travel between school, Gawler and Mawson Lakes.
Our main destination was the Uni SA Planetarium. We attended an awesome presentation, which highlighted popular constellations, including Aboriginal constellation names. There was a demonstration about how light pollution is affecting our nighttime views of the sky. We watched an entertaining video and particularly enjoyed the information about dinosaurs and how the Moon was created.
We then enjoyed lunch at nearby fast-food venues, before again using public transport for our return journey.
The behaviour of the students was exemplary, with strong leadership from numerous students, including Jordan, Jacob, Seth and Kaine. The collaboration between staff made the excursion run smoothly despite a few hiccups! We thoroughly enjoy our regular excursions, as they provide the opportunity for the students to build confidence in using public transport, handling money, communicating with the public, forging social relationships and decision making.
Jo Bakker
Coordinator - Inclusive Education
Published on: 22 Oct 2021
Gawler Belt - Xavier Day 2021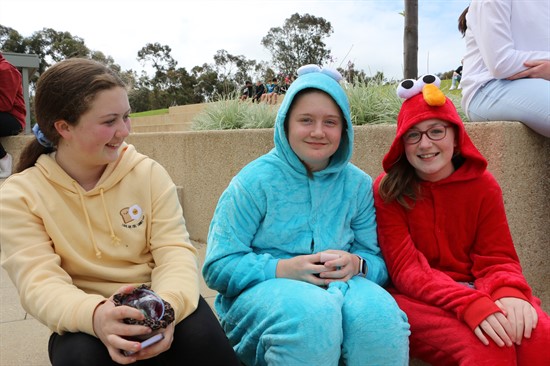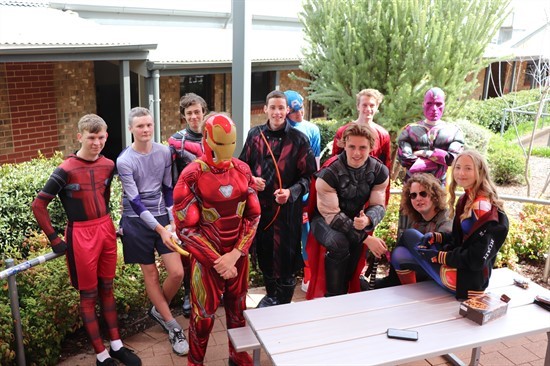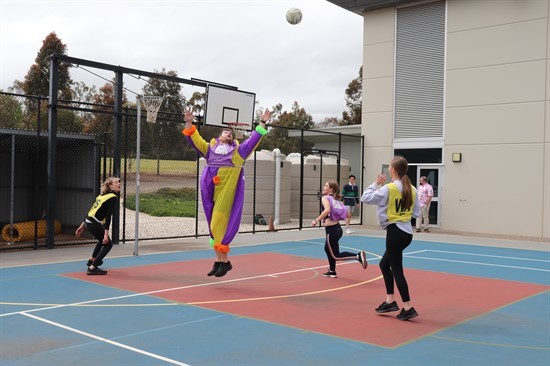 Prev
Showing images
1 - 8
of 41
Next
Published on: 22 Oct 2021
Gawler Belt - Transition Visits 2022
We have started to plan for our Year 7 2022 cohort and offered extra transition for a select group of students. It has been lovely to meet these young people and their families on small tours, and now had our first transition visit. The students cooked up a storm, doing a great job in the kitchen to make a mess (and then clean it up!) as they cooked batches of muffins. They then participated in a school treasure hunt, where they had to locate certain important spots. We have been very fortunate to have the excellent support of year 10 students Annika, Emerson, Hayley and Jorja to act as mentors. We look forward to getting to know these students more this term over a few more visits.
Published on: 22 Oct 2021
Gawler Belt - SAPSASA
The following students representated Xavier College recently in the Gawler SAPSASA Soccer Team: Jay Ellery, Hamish Ellery, Koby Swindley, Tyran Rider, Jordy Dawber, Xaus Ahlfors, Jedison Knight, Jay Lillecrapp and Harvey Perry.
Published on: 22 Oct 2021
Gawler Belt - Science
Year 7 STEM
Students in Year 7 have embarked on a project to design and build a hydraulic arm for the Mars Rover to be able to pick up and move stones. They are working in small groups, using corflute, cardboard, syringes and plastic tubing to build a basic armature design to given specifications. They will then design a unique head for the arm which will act to grip and release a stone, using hydraulic mechanisms. A showcase event is planned for Week 5 where groups will compete in tests of speed and strength.
Year 8 Barossa Excursion
On Thursday, Week 2, the Year 8 cohort attended a full day excursion to the Barossa Goldfields, Barossa Reservoir, Seppeltsfield Village and Barossa Valley Chocolate Company.
Students have spent time in Science lessons learning about the rock cycle, rock types as well as mining operations, particularly those which took place at the location known today as the Barossa Goldfields. On the excursion, they were able to see different rock types on location, mine shafts of various sizes as well as remains and ruins of buildings that were built in the mid-to-late 1800's to accommodate the miners and their activities. All this was wrapped in a sunny day, walking through bushlands of Para Wirra Conservation Park.
Lunch was held at the Barossa Reservoir though, sadly, the students were unable to experience the Whispering Wall effect as the dam area was closed for renovations.
Students visited two large businesses in the Barossa to tie in with their studies in Humanities considering entrepreneurship, tourism and business. Seppeltsfield offered a delightful tour of their property, teasing out historical quirks and highlighting the cooperation and cross-promotion of multiple businesses. The Barossa Chocolate Company showed students the chocolate making process, shared their vision to offer a novel experience in an established market and offered sampling of their wares (ruby chocolate and enrobed fudge – yum!). Everyone went home with a special chocolate gift from Xavier College and the Barossa Valley Chocolate Company. We hope the students enjoyed their time out and had some new experiences to enrich their studies.
Michael Terwel,
Curriculum Leader
Published on: 22 Oct 2021
Gawler Parish Sacramental Program
Published on: 22 Oct 2021
Community Noticeboard
Published on: 22 Oct 2021